Chemical Reaction Engineering Module
Chemical Reaction Engineering Module
Zur Modellierung von Massen- und Energiebilanzen sowie von chemischen Reaktionen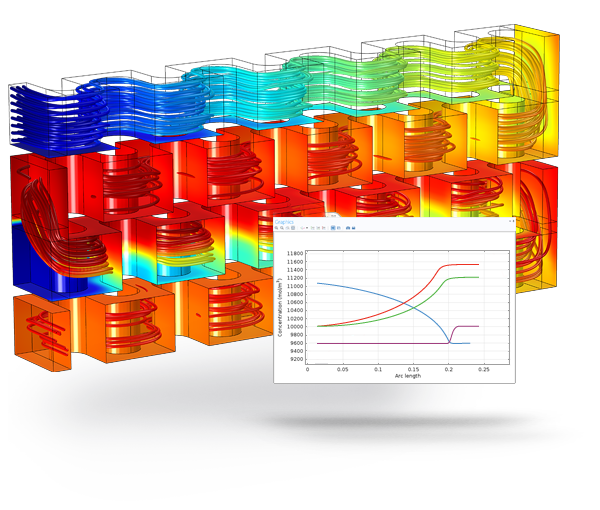 Ein Plattenreaktor, in dem chemische Reaktionen stattfinden und die reagierenden Spezies an zwei Stellen in den Reaktor eingeführt werden.
Perfekt für alle Verfahren in der chemischen und der Prozessindustrie
Mit dem Chemical Reaction Engineering Module lassen sich chemische Reaktoren, Filterapparaturen, Mischer und ähnliche Prozesse einfach optimieren. Das Modul stellt Werkzeuge zur Verfügung, mit denen Sie den Materialtransport und den Wärmetransfer zusammen mit der chemischen Reaktionskinetik in allen Arten von Umgebungen - Gase, Fluidströmungen, poröse Medien, auf Oberflächen und in Festphasen - oder eine Kombination dieser simulieren können. Dadurch ist das Modul perfekt für alle Aspekte der chemischen und der Prozessindustrie geeignet, und dies gilt sogar für die Umwelttechnik, in der die "Verfahrenseinheit" oder der "chemische Reaktor" das Umfeld ist, das Sie umgibt.
Konvektion und Diffusion und die chemische Reaktionskinetik
Das Chemical Reaction Engineering Module bietet Ihnen intuitive Interfaces, mit denen Sie den Materialtransport in verdünnten oder konzentrierten Lösungen oder Gemischen durch Konvektion, Diffusion und Migration einer beliebigen Anzahl von chemischen Spezies definieren können. Diese lassen sich einfach mit der Kinetik von reversiblen, irreversiblen und Gleichgewichtsreaktionen, die durch die Arrhenius-Gleichung oder einem beliebigen Geschwindigkeitsgesetz beschrieben werden kann. Hierbei können auch die Auswirkungen von Konzentration und Temperatur auf die Kinetik einbezogen werden. Das Interface für das Definieren von chemischen Reaktionen ist unkompliziert, weil Sie die chemischen Formeln und Reaktionsgleichungen im Wesentlichen so eingeben, als würden Sie diese auf Papier schreiben. COMSOL formuliert anhand der eingegebenen Reaktionsgleichungen die geeigneten Reaktionsausdrücke mithilfe des Massenwirkungsgesetzes, die Sie abändern oder mit Ihren eigenen kinetischen Ausdrücken überschreiben können. Die Stöchiometrie der Reaktionsgleichungen wird dazu verwendet, automatisch Massen- und Energiebilanzen zu definieren, wobei die Reaktionen homogen oder heterogen sein und im Festkörper oder auf Oberflächen stattfinden können.
Weitere Bilder
Konzentrationsniveaus im zeitlichen Verlauf in einem kontinuierlichen Rührkessel für die Produktion von Ibuprofen.
Mit einem Rohrreaktor werden die Konzentrationen von chemischen Spezies im gesamten Verlauf eines katalytischen Festbettreaktors simuliert, wofür heterogene Bedingungen sowie eine anwenderspezifische Kinetik definiert werden.
Konzentrationsisoflächen in einem monolithischen 3D-Reaktor.
Alle Transportphänomene
Zu dem Chemical Reaction Engineering Module gehören Werkzeuge zur Berechnung von thermodynamischen Eigenschaften einschließlich der Anbindung an externe Quellen, so dass Sie die Kopplung der Wärmetransport- und Enthalpiebilanzen mit dem Materialtransport und den chemischen Reaktionen verbessern können. Darüber hinaus gibt es Interfaces zur Beschreibung des Impulstransports, wodurch Sie eine vollständige Beschreibung der Transportphänomene Ihres Prozesses erlangen. Hierzu gehören laminare Strömungen und Strömungen in porösen Medien, die durch die Navier-Stokes-Gleichung, das Darcy-Gesetz und die Brinkman-Gleichungen beschrieben werden. Durch die Kopplung mit dem CFD Module oder dem Heat Transfer Module können Sie auch turbulente, mehrphasige und nicht isotherme Strömungen sowie Übertragungen von Wärmestrahlung simulieren.
Ein wesentlicher Bestandteil der Optimierung Ihrer chemischen Reaktionsprozesse
Das Chemical Reaction Engineering Module ist für Ingenieure und Wissenschaftler vorgesehen, die in der chemischen, Prozess-, Stromerzeugungs-, pharmazeutischen, Polymer- oder Lebensmittelindustrie arbeiten und in deren Prozessen der Materialtransport und chemische Reaktionen wesentliche Bestandteile sind. Das Modul umfasst Werkzeuge, mit denen alle Aspekte dieser Anwendungen untersucht werden können: von Reagenzglasuntersuchungen in einem Labor bis zu einer Revision eines chemischen Reaktors mitten in einer Betriebsanlage. Die chemische Reaktionskinetik kann unter kontrollierten Bedingungen simuliert werden, sodass sich die Kinetik durch integrierte Funktionen für Parameterschätzung sowie Vergleiche mit experimentellen Daten genau beschreiben lässt. Darauf aufbauend stellt das Chemical Reaction Engineering Module eine Reihe von vordefinierten Reaktortypen für umfassende Untersuchungen bereit:
diskontinuierliche Rührkessel (Batch- und Semibatch-Reaktoren)
Kontinuierliche Rührkessel (CSTR)
Rohrreaktoren
Alle diese Reaktoren werden mit geeigneten Definitionen für konstante Massen oder konstantes Volumen sowie mit isothermen, nicht isothermen und adiabatischen Bedingungenbereitgestellt. Diese einfachen Modelle, die perfekt für das Einbinden Ihrer optimierten Kinetik in eine Prozessumgebung geeignet sind, ermöglichen Ihnen ein verbessertes Verständnis Ihres Systems und versetzen Sie in die Lage, eine Vielzahl von unterschiedlichen Betriebsbedingungen zu simulieren. Mit all den Erkenntnissen, die Sie daraus gewonnen haben, können Sie im nächsten Schritt durch ein vollständiges achsensymmetrisches 2D- oder 3D-Modell den Entwurf Ihrer Anlage optimieren und eine Feinabstimmung der Betriebsbedingungen vornehmen. Mit der Funktion zum Generieren eines raumabhängigen Modells können Sie die Massen- und Energiebilanzen Ihres Systems zusammen mit den Fluidströmungen und Geschwindigkeiten der chemischen Reaktionen einbinden.
Chemical Reaction Engineering Module
Product Features
Mass transfer in dilute and concentrated solution and mixtures
Material transport through diffusion, convection and ionic transport
Laminar and porous media flow
Hagen-Poiseuille equation
Navier-Stokes Equations, Darcy's Law and the Brinkman Equations
Diffusion and boundary layers
Reacting flow
Mass transfer in concentrated solutions
Multicomponent mass transport and gas diffusion
Multicomponent diffusivity, thermal diffusion and the Soret effect
Fickian, Maxwell-Stefan, and Mixture-averaged transport
Surface diffusions and reactions
Adsorption, absorption and deposition of species at surfaces
Ionic migration through the Nernst-Planck Equations
Species transport and heat transfer in porous media
Bruggeman mass transport parameters
Arrhenius model
Unconditional number of chemical species in arbitrary definitions of chemical reaction kinetics
CHEMKIN® file import
Interface to CAPE-OPEN thermodynamics
---
Application Areas
Batch and high-pressure reactors
Bioreactors and fermenters
Biochemistry, biochemical engineering and food science
Chemical reactor design, sizing and optimization
Chromatography
Continuous reactors and CSTRs
Separators, scrubbers, crystallizers and leaching unit operations
Electrochemcial Engineering
Osmosis, electrophoresis and electroosmosis
Exhaust after-treatment and emission control
Filtration and sedimentation
Homogeneous and Heteregenous Catalysis
Selective catalytic reduction and SCR catalysts
Microfluidics and lab-on-chip devices
Monolithic reactors and catalytic converters
Multicomponent and membrane transport
Packed bed reactors
Pharmaceutical synthesis
Plug-flow reactor design and tubular reactors
Polymerization kinetics and manufacture
Pre-burners and internal combustion engines
Hydrogen Reformers
Semiconductor processing and CVD
---
Material Databases
| File Format | Extension | Read | Write |
| --- | --- | --- | --- |
| CHEMKIN | .dat, .txt, .inp3 | Ja | Nein |
| CAPE-OPEN1 (direct connection) | n/a | n/a | n/a |
| LXCAT file2 | .lxcat, .txt | Ja | Nein |
1 Requires Chemical Reaction Engineering Module
2 Requires Plasma Module
3 Any file format is allowed, these are the most common extensions

---
Data Resources:
Downloadable Mechanism, Thermodynamic and Transport Files
Modeling Chemical Applications
The application of modeling to chemical engineering is a cost-efficient way to explore new designs of systems and processes. COMSOL has been developing its capabilities with the chemical processes and engineering for over 10 years now. By using modeling, the engineer can achieve the understanding and intuition required for further innovation, and increase efficiency. A main feature of COMSOL is the symbolic and interpreted interfaces that allows you to define whatever you like, such as chemical and electrochemical reactions, or kinetic, thermodynamic, or transport expressions.
Chemical Reaction Engineering Module
Modeling the Electrochemistry of Blood Glucose Test Strips
Stephen Mackintosh
Lifescan Scotland
UK
Lifescan Scotland is a medical device company that designs and manufactures blood glucose monitoring kits for the global diabetes market. These involve the self-monitoring of blood glucose levels through specialized monitoring systems and test strips that comprise of a plastic substrate, two carbon-based electrodes, a thin dry reagent layer, and a ...
Modeling the Electrochemistry of Blood Glucose Test Strips
Modeling the Electrochemistry of Blood Glucose Test Strips
Stephen Mackintosh Lifescan Scotland UK
Lifescan Scotland is a medical device company that designs and manufactures blood glucose monitoring kits for the global diabetes market. These involve the self-monitoring of blood glucose levels through specialized monitoring systems and test strips that comprise of a plastic substrate, two carbon-based electrodes, a thin dry reagent layer, and a ...
Chemical Reaction Engineering Module
Porous Reactor with Injection Needle
This model treats the flow field and species distribution in an experimental reactor for studies of heterogeneous catalysis. The model exemplifies the coupling of free and porous media flow in fixed bed reactors. The reactor consists of a tubular structure with an injection tube that has its main axis perpendicular to the axis of the reactor. ...
Chemical Vapor Deposition of GaAs
Chemical vapor deposition (CVD) allows a thin film to be grown on a substrate through molecules and molecular fragments adsorbing and reacting on a surface. This example illustrates the modeling of such a CVD reactor where triethyl-gallium first decomposes, and the reaction products along with arsine (AsH3) adsorb and react on a substrate to form ...
Thermal Decomposition
In this tutorial model, couple heat and mass transport equations to laminar flow in order to model exothermic reactions in parallel plate reactor. It exemplifies how COMSOL Multiphysics allows you to systematically set up and solve increasingly sophisticated models using predefined physics interfaces.
Heat Transfer and Steam Reforming in a Reactor
In fuel cell power generators, a steam reformer unit typically produces the hydrogen needed for the cell stack. This example illustrates the modeling of a steam reformer. The reformation chemistry occurs in a porous catalytic bed where energy is supplied through heating tubes to drive the endothermal reaction system. The reactor is enclosed in ...
Surface Reactions in a Biosensor
A flow cell in a biosensor contains an array of micropillars. The curved side of the pillars are coated with an active material that allows for the selective adsorption of analyte species in the sample stream. The adsorbed species produce a signal that is dependent upon the local concentration at the pillar surfaces. This example investigates the ...
Separation Through Dialysis
Dialysis is frequently used membrane separation process. An important application is hemodialysis, where membranes are used as artificial kidneys for people suffering from renal failure. Other applications include the recovery of caustic colloidal hemicellulose during viscose manufacturing, and the removal of alcohol from beer. In the dialysis ...
NOx Reduction in a Monolithic Reactor
This suite of examples illustrate the modeling of selective NO reduction, that occurs as flue gases pass through the channels of a monolithic reactor in the exhaust system of a motored vehicle. The simulations are aimed at finding the optimal dosing of NH3, the reactant that serves as reducing agent in the process. Three different analyses are ...
Electrokinetic Valve
This model presents an example of pressure driven flow and electrophoresis in a 3D micro channel system. Researchers often use a device similar to the one in this model as an electrokinetic sample injector in biochips to obtain well-defined sample volumes of dissociated acids and salts and to transport these volumes. Focusing is obtained through ...
Dissociation in a Tubular Reactor
Tubular reactors are often used in continuous large-scale production, for example in the petroleum industry. One key design and optimization parameter is the conversion, or the amount of reactant that reacts to form the desired product. In order to achieve high conversion, process engineers optimize the reactor design: its length, width and ...
Carbon Deposition in Heterogeneous Catalysis
Carbon deposition onto the surface of solid catalysts is commonly observed in hydrocarbon processing. Carbon deposits can affect both the activity of catalysts as well as the flow of gas through a catalyst bed. This example investigates the thermal decomposition of methane into hydrogen and solid carbon. In a first model the isothermal process ...
Porous Reactor with Injection Needle
Chemical Vapor Deposition of GaAs
Thermal Decomposition
Heat Transfer and Steam Reforming in a Reactor
Surface Reactions in a Biosensor
Separation Through Dialysis
NOx Reduction in a Monolithic Reactor
Electrokinetic Valve
Dissociation in a Tubular Reactor
Carbon Deposition in Heterogeneous Catalysis