Corrosion Module
Zur Modellierung elektrochemischer Korrosionsprozesse und kathodischen Korrosionsschutzes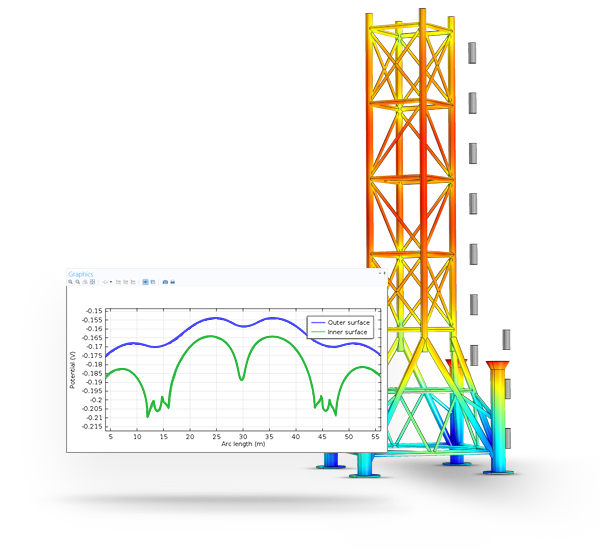 Eine Stahlstruktur, die in Meerwasser eingetaucht ist, wird durch 40 Opferanoden vor Korrosion geschützt. Bei diesem Beispiel wird die Spannungsverteilung auf der Oberfläche der geschützten Struktur modelliert, wofür ein konstanter Grenzstrom zur Sauerstoffreduktion an der geschützten Oberfläche angenommen wird.
Elektrochemische Korrosion tritt überall auf
Korrosion verursacht auf der Welt Kosten von bis zu einer Billion Dollar jährlich. Korrosion tritt am häufigsten durch elektrochemische Reaktionsprozesse auf, die in Unterwasser-, nassen oder feuchten Umgebungen stattfinden. Mit dem Corrosion Module können Ingenieure und Wissenschaftler diese Prozesse untersuchen, sich einen Überblick über das Ausmaß der Korrosion einer Struktur während ihrer Standzeit verschaffen und präventive Maßnahmen implementieren, damit elektrochemische Korrosion unterbunden wird, um die jeweilige Struktur zu schützen. Das Modul kann dazu verwendet werden, Korrosion im kleinen Maßstab zu simulieren, um die grundlegenden Mechanismen zu untersuchen, sowie Korrosion im größeren Maßstab zu simulieren, um zu ermitteln, wie große oder dauerhafte Strukturen geschützt werden können.
Verständnis über die Korrosion ist entscheidend
Das Corrosion Module umfasst Funktionen, Interfaces und Beispielmodelle, die eine direkte Herangehensweise für eine Simulation von allen elektrochemischen Korrosionsprozessen ermöglichen, wie etwa galvanische, Lochfraß- und Spaltkorrosion. Transport in korrosivem und korrodiertem Material wird über ein dynamisches Modellieren von Änderungen berücksichtigt, die es in der korrodierenden Oberfläche und in dem Elektrolyten gibt, der die Oberfläche berührt. Das Corrosion Module enthält Standardinterfaces zum Modellieren des Korrosionspotentials und der Stromverteilungen von Korrosionsprozessen, für die die Kinetik der elektrochemischen Reaktion durch die Tafel-Gleichung, die Butler-Volmer-Gleichung oder benutzerdefinierte Gleichungen beschrieben werden kann. Die elektrochemischen Reaktionen werden vollständig gelöst, und zwar zusammen mit elektrischen Potentialen in Elektrolyten und Metallstrukturen, homogenen chemischen Reaktionen und Phänomenen, die speziell in Korrosionsprozessen vorkommen, wie z.B. die Änderung der Form einer Metalloberfläche infolge von Korrosion.
Weitere Bilder
Konzentrationen von Korrosionsspezies entlang eines Risses
Elektrolytpotential auf der Hülle eines Schiffs bei kathodischem Korrosionsschutz mit Fremdstromanoden
Eisenkonzentration und Konturen der Elektrolytspannung in der Tertiärstromverteilungsuntersuchung der galvanischen Korrosion eines verzinkten Nagels.
Optimieren von Korrosionsschutzsystemen
Mit dem Corrosion Module können Sie auch wirksame Korrosionsschutzsysteme entwerfen. Dies umfasst die Simulation von kathodischem Korrosionsschutz mit Fremdstromanoden, von Opferanoden und von anodischem Schutz, wobei an korrodierendes Material ein anodischer Strom angelegt wird, um eine Passivierung zu erzwingen.
Wenn Sie mit dem Corrosion Module die speziellen Schutzmechanismen im kleinen Maßstab untersuchen, können Sie Parameter ermitteln, die sich zum Simulieren einer größeren Struktur verwenden lassen, beispielsweise das Wachsen eines Hydroxidfilms auf einer geschützten Struktur. Sie können CAD-Dateien, die Ihre Konstruktionen enthalten, in COMSOL Multiphysics importieren und dann die Korrosionsschutzmaßnahmen definieren. Nachdem Sie für die jeweilige Struktur die Bereiche ermittelt haben, die anfällig für beschleunigte Korrosion sind, können Sie die Stellen angeben, an denen Opferanoden platziert bzw. kathodische oder anodische Schutzströme eingeleitet werden sollen.
Eine weitere Anwendung des Moduls besteht darin, die Auswirkungen von Kriechströmen auf die Korrosion von erdverlegten oder unter Wasser befindlichen Strukturen abzuschätzen. Sie können das Modul auch dazu verwenden, die Platzierung der Schutzelektroden zu optimieren, um den Korrosionsmechanismus zu vermeiden. Durch optimale Gestaltung dieser Elektroden können die korrosiven Effekte von Kriechströmen minimiert werden ohne die Strukturen in der Nähe der Kriechstromquelle zu korrodieren, wie z.B. bei Bahntrassen.
Modellieren der zunehmenden Auswirkungen elektrochemischer Korrosion
Die Auswirkungen, die Korrosion im Verlauf der Zeit auf eine Struktur hat, können geradezu katastrophal sein. Wird durch Korrosion Material von einer Struktur abgetragen, ist möglicherweise deren Standsicherheit gefährdet.
In bestimmten Fällen möchten Sie möglicherweise eine Strukturanalyse zusammen mit einer Korrosionsanalyse vornehmen, um festzustellen, welche Teile der Struktur hohen Spannungen und Belastungen ausgesetzt sind. Korrosion in diesen Teilen kann verheerend sein, sodass Sie sicherstellen möchten, dass diese Teile geschützt sind. Um die Korrosionsauswirkungen zu verstehen und den jeweiligen Korrosionsschutzentwurf zu optimieren, können Sie das Corrosion Module mit dem Structural Mechanics Module kombinieren. Dies funktioniert dank der Leistungsfähigkeit von COMSOL Multiphysics problemlos, denn hiermit können Modelle, die in einem Modul erstellt wurden, direkt mit einem anderen Modul gekoppelt werden.
In anderen Fällen muss eine turbulente und mehrphasige Strömung möglicherweise mit dem Transport von chemischen Spezies kombiniert werden. Sie können dann das CFD Module zusammen mit den Interfaces für Massentransporte im Corrosion Module verwenden, um genaue Massentransportbeschreibungen zu erhalten.
Product Features
Arbitrary definition of electrochemical reactions where kinetic parameters such as concentration and corrosion potential can be temperature-dependent
Allows for secondary and tertiary current density distributions to be produced, using built-in interfaces for describing Butler-Volmer and Tafel equations
Mass transfer through diffusion, convection, and ionic migration in dilute and concentrated electrolytes (Nernst-Planck equations)
Chemical species transport and fluid flow in porous media
Supports investigating and including limiting current densities in electrode kinetics
Features supporting the simulation of cyclic voltammetry, potentiometry, and AC impedance for investigating corrosion reaction kinetics
Support for the effects of corroding surface topologies on electrochemical kinetics, current distribution, and corrosion potential
Laminar fluid flow, heat transfer, and Joule heating
---
Application Areas
Anodic protection
Cathodic protection
Double layer capacitance
Corrosion protection (CP)
Crevice corrosion
Galvanic corrosion
Impressed Current Cathodic Protection (ICCP)
AC Mitigation
Passivation
Pitting corrosion
Signature Management
Underwater electric potential (UEP)
Corrosion Related Magnetic (CRM) fields
AC/DC (HVDC) interference analysis
Soil resistivity
Anode Bed design
Surface protection
ICCP sleds
---
Corrosion Module
Submarines: Corrosion Protection or Enemy Detection?
David Schaefer
University of Duisburg-Essen, Duisburg, Germany

Germany's Technical Center for Ships and Naval Weapons, Bundeswehr, Germany
Submarines create underwater electric potential (UEP) signatures when using corrosion protection systems. These signatures are detectable by enemy vessels, an undesirable effect of the corrosion protection. Germany's Technical Center for Ships and Naval Weapons (WTD 71) has worked with the Laboratory for General and Theoretical Electrical ...
Submarines: Corrosion Protection or Enemy Detection?
Submarines: Corrosion Protection or Enemy Detection?
David Schaefer University of Duisburg-Essen, Duisburg, Germany Germany's Technical Center for Ships and Naval Weapons, Bundeswehr, Germany
Submarines create underwater electric potential (UEP) signatures when using corrosion protection systems. These signatures are detectable by enemy vessels, an undesirable effect of the corrosion protection. Germany's Technical Center for Ships and Naval Weapons (WTD 71) has worked with the Laboratory for General and Theoretical Electrical ...
Corrosion Module
Free Convection in Porous Medium
This example treats the modeling of sub-surface flow where free convection in porous media is analyzed. The results are compared with published literature in the field. The model couples the momentum balance to an energy balance through an equation, dependent on temperature, being directly typed into the source term for the momentum balance. ...
Surface Reactions in a Biosensor
A flow cell in a biosensor contains an array of micropillars. The curved side of the pillars are coated with an active material that allows for the selective adsorption of analyte species in the sample stream. The adsorbed species produce a signal that is dependent upon the local concentration at the pillar surfaces. This example investigates the ...
Current Density Distribution in a Solid Oxide Fuel Cell, AC Impedance Study
This model presents a study of the current density distribution in a solid oxide fuel cell (SOFC). The model includes the full coupling between the mass balances at the anode and cathode, the momentum balances in the gas channels, the gas flow in the porous electrodes, the balance of the ionic current carried by the oxide ion, and a balance of ...
Electrochemical Impedance Spectroscopy
Electrochemical impedance spectroscopy (EIS) is a common technique in which a small oscillating perturbation in cell potential is applied to an electrochemical system so as to interrogate the kinetic and transport properties. The Electroanalysis interface is used with a frequency domain study to simulate EIS for a range of electrode reaction ...
Ship Hull Corrosion Mitigation
Impressed current cathodic protection is a commonly employed strategy to mitigate the ship hull corrosion where an external current is applied to the hull surface, polarizing it to a lower potential. In this model, the effect of propeller coating on the current demand is demonstrated.
Electrokinetic Valve
This model presents an example of pressure driven flow and electrophoresis in a 3D micro channel system. Researchers often use a device similar to the one in this model as an electrokinetic sample injector in biochips to obtain well-defined sample volumes of dissociated acids and salts and to transport these volumes. Focusing is obtained through ...
Convective Flow in a Heat Exchanger Plate
This example models flow in a heat exchanger plate by coupling a Laminar Flow interface to a Pipe Flow interface. By the use of the Pipe Flow interface to model the flow in the microchannels, the problem size is significantly reduced. Apart from the Pipe Flow licence also a licence supporting the Laminar Inflow feature is required to run the ...
Forchheimer Flow
This is a tutorial model of the coupling between flow of a fluid in an open channel and a porous block attached to one of the channel walls. The flow is described by the Navier-Stokes equation in the free region and a Forchheimer-corrected version of the Brinkman equations in the porous region.
Oil Platform Corrosion Protection Using Sacrificial Anodes
Steel structures immersed in seawater can be protected from corrosion through cathodic protection. This protection can be achieved by an impressed external current or by using sacrificial anodes. The use of sacrificial anodes is often preferred due to its simplicity. This example models the primary current distribution of a corrosion protection ...
Model of a Diffuse Double Layer
In the diffuse double layer and within the first few nanometers of an electrode surface, the assumption of electroneutrality is not valid due to charge separation. Typically, the diffuse double layer may be of interest when modeling very thin layers of electrolyte including those in electrochemical capacitors and microelectrodes. This example ...
Free Convection in Porous Medium
Surface Reactions in a Biosensor
Current Density Distribution in a Solid Oxide Fuel Cell, AC Impedance Study
Electrochemical Impedance Spectroscopy
Ship Hull Corrosion Mitigation
Electrokinetic Valve
Convective Flow in a Heat Exchanger Plate
Forchheimer Flow
Oil Platform Corrosion Protection Using Sacrificial Anodes
Model of a Diffuse Double Layer