Heat Transfer Module
Zum Modellieren von Wärmeübertragung in Festkörpern und Fluiden für alle Anwendungsbereiche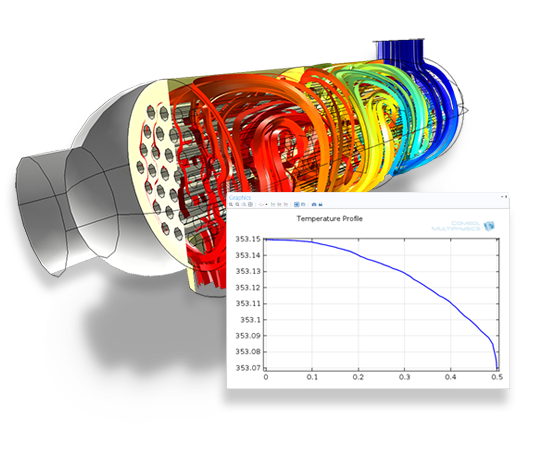 Temperaturprofil entlang der Mantelseite und entlang einer der Rohre in einem Wärmetauscher.
Erzeugung, Verbrauch und Transport von Wärme
Das Heat Transfer Module bietet Hilfestellung bei der Untersuchung der Auswirkungen von Erwärmungs- und Kühlvorgängen in Geräten, Bauteilen oder Prozessen. Das Modul enthält geeignete Simulations-Tools, mit denen Sie die Mechanismen des Wärmetransports (Leitung, Konvektion, Strahlung) untersuchen können. Diese Tools werden häufig auch zusammen mit anderen physikalischen Bereichen wie Strukturmechanik, Strömungsmechanik, Elektromagnetismus und chemische Reaktionen verwendet. Vor diesem Hintergrund fungiert das Heat Transfer Module als Plattform für alle denkbaren Industriezweige und Anwendungen, bei denen die Erzeugung, der Verbrauch oder der Transport von Wärme oder Energie im Mittelpunkt des untersuchten Prozesses steht oder zumindest wesentlichen Anteil daran hat.
Material- und thermodynamische Daten
Das Heat Transfer Module ist mit einer internen Materialdatenbank ausgestattet, die die Materialeigenschaften diverser gängiger Fluide und Gase sowie eine Vielzahl von thermodynamischen Daten enthält, die für eine genaue Analyse erforderlich sind. Angegeben sind u. a. Wärmeleitfähigkeit, Wärmekapazität und Dichte. Die Material Library ist ebenfalls eine Quelle für Materialeigenschaften. Sie enthält die Daten oder algebraischen Beziehungen von mehr als 2.500 Feststoffen. Viele dieser Eigenschaften (z. B. E-Modul und elektrische Leitfähigkeit) sind temperaturabhängig. Das Heat Transfer Module unterstützt außerdem den Import von thermodynamischen und anderen Materialdaten aus Excel® und MATLAB®. Über den Schnittstellenstandard CAPE-OPEN lassen sich zudem Verbindungen zu externen thermodynamischen Datenbanken herstellen.
Weitere Bilder
Einheitlicher Workflow
Das Heat Transfer Module ist ein spezielles Tool für die Simulation thermischer Effekte in Fertigungsprozessen und Produktkonstruktionen. Für die Erstellung des Modells und die Simulationen im Bereich des Wärmetransports und allen anderen physikalischen Phänomenen in Ihren Anwendungen verwendet COMSOL einen einheitlichen Ansatz. Dadurch sind Sie mit einem Standardtool ausgerüstet, mit dem Sie mit anderen Ingenieuren und Konstruktionsabteilungen, die andere Phänomene untersuchen, kommunizieren können. Ungeachtet der physikalischen Bereiche, mit denen Sie oder Ihre Kollegen bei einer bestimmten Anwendung arbeiten, bleibt der Workflow einheitlich und überschaubar:
Importieren oder Zeichnen des betreffenden Geräts oder der Systemgeometrie
Auswählen der Materialdaten oder Beziehungen aus den gleichen Dateien unter Verwendung von konstanten oder temperaturabhängigen Eigenschaften
Festlegen der optimalen Beschreibung des Wärmetransports in Ihrem Systems mithilfe diverser individueller Interfaces, ggf. in Abhängigkeit von anderen mit dem System gekoppelten physikalischen Bereichen
Einbeziehen eventueller weiterer physikalischer Effekte, die mit den Wärmetransporteffekten gekoppelt sind
Definieren von Bedingungen und Nebenbedingungen für die Systemränder
Vernetzen des Systems und Verwendung dieses Netzes oder abgeleiteter Netze für weitere Simulationen
Ausführen des Berechnungsprozesses mit einem geeigneten Löser und Einstellungen für die Analyse
Verarbeiten und Visualisieren der Ergebnisse in Diagrammen und Abbildungen, ggf. auch gemeinsames Darstellen mit Ergebnissen aus anderen Simulationen
Einheitliche Plattform für die Simulation thermischer Effekte bei Fertigungsprozessen und Produktkonstruktionen
Mit COMSOL Multiphysics und den zahlreichen Zusatzmodulen stellt COMSOL ein einheitliches Tool für alle Facetten Ihrer Prozesse und Konstruktionen bereit. Ihnen bleibt es überlassen, welche physikalischen Phänomene Sie untersuchen möchten. Heute modellieren Sie zum Beispiel die joulesche Erwärmung Ihrer Systemgeräte. Morgen untersuchen Sie die Kühlung des Systems durch Luftströme und übermorgen die thermischen Spannungen, die dadurch auf Ihre Geräte wirken. Oder Sie modellieren alle Effekte an einem Tag.
Der Wärmetransport ist ein wichtiger physikalischer Effekt, der meist im Zusammenhang mit anderen physikalischen Effekten untersucht wird. Temperaturfelder verursachen thermische Spannungen, elektromagnetische Felder erzeugen Wärme durch Widerstand, Induktion, Mikrowellen und Hochfrequenzen. Ein Fluid, das über verschiedene Komponenten und Bauteile strömt, ist für deren Kühlung äußerst wichtig. Temperaturabweichungen haben erhebliche Auswirkungen auf Eigenschaften und physikalisches Verhalten von Materialien, wenn diese thermisch verarbeitet werden (z. B. beim Gießen oder Schweißen). Für die problemlose Modellierung des Wärmetransports in Kombination mit anderen Phänomenen enthält das Heat Transfer Module zahlreiche anwenderfreundliche Interfaces. Dieses Modul lässt sich auch in alle anderen Modulen der COMSOL®-Produktpalette integrieren.
Die Mechanismen des Wärmetransports
Die grundlegende Aufgabe des Heat Transfer Module ist es, Berechnungen in Bezug auf die Erhaltung von Wärme vorzunehmen oder Energiebilanzen zu berechnen. Dazu sind eine Reihe von Phänomenen wie mechanische Verluste, latente Wärme, joulesche Wärme oder Reaktionswärme verfügbar. Das Heat Transfer Module enthält einsatzbereite Interfaces, die sogenannten Physikinterfaces, die für die Eingabe von Modelldaten über die Benutzeroberfläche konfiguriert sind. Diese Eingaben werden anschließend zum Aufstellen der Energiebilanz verwendet. Wie bei allen Physikinterfaces der COMSOL Produktpalette können Sie auch hier die zugrunde liegenden Gleichungen bearbeiten. So ist bei der Modifizierung der Transportmechanismen, der Definition bestimmter Wärmequellen oder der Kopplung mit anderen Physikinterfaces die notwendige Flexibilität gewährleistet.
Leitung
Das Heat Transfer Module enthält Funktionen für den Wärmetransport durch Konvektion in Festkörpern und Fluiden oder einer Kombination beider Arten. Durch den uneingeschränkten Zugriff auf die thermische Leitfähigkeit lässt sich diese auch in Abhängigkeit von Variablen, z.B. als Funktion der Temperatur selbst, definieren. Durch die automatische Berechnung von krummlinigen Koordinaten auf beliebiger Geometrie und der Möglichkeit, anisotrope Materialeigenschaften zu definieren, lassen sich thermische Effekte in anisotropen Strukturen wie etwa Verbundwerkstoffen sehr genau darstellen.
Strahlung
Im Heat Transfer Module wird auch die Modellierung der Wärmestrahlung für diverse Szenarien unterstützt. Zu diesem Zweck sind spezielle Löser verfügbar, mit denen Sie das Phänomen modellieren und mit Konvektion und Leitung koppeln können. Mit den Tools im Heat Transfer Module können Sie in transparenten, undurchsichtigen und teiltransparenten Medien verschiedene Strahlungsformen (Oberfläche-zu-Umgebung, Umgebung-zu-Oberfläche und Oberfläche -zu- Oberfläche) modellieren.
Zum Modellieren einer Strahlung des Typs Oberfläche -zu- Oberfläche verwendet das Modul die Radiosity-Methode und erfasst dabei auch die Abhängigkeit der Oberflächeneigenschaften von der Wellenlänge. In ein und demselben Modell können bis zu fünf Spektralbänder berücksichtigt werden. Diese Methode eignet sich zur Modellierung der Sonnenstrahlung, bei der sich das Absorptionsvermögen der Oberfläche für kurze Wellenlängen (Spektralband für Sonnenstrahlung) von dem Emissionsvermögen der Oberfläche von längeren Wellenlängen (Spektralband für Umgebungsstrahlung) unterscheidet. Für jedes Spektralband können zudem Transparenzeigenschaften definiert werden. Das Heat Transfer Module modelliert außerdem die Übertragung von Strahlungswärme in teiltransparente Medien und berücksichtigt dabei Absorption, Emission und Streuung der Wärmestrahlung.
Konvektion
Bei der Anwesenheit von Fluiden kommt es in der Wärmetransportanwendung unweigerlich zu Konvektion und zu Energiebeiträgen aufgrund von Druckarbeit und viskosen Effekten. Im Heat Transfer Module werden diese Prozesse – und zwar sowohl die erzwungene als auch die freie bzw. natürliche Konvektion – optimal unterstützt. Das Modul enthält ein spezielles Physikinterface für konjugierten Wärmetransport, sodass in einem System Festkörper- und Fluidmaterialien modelliert werden können. Zur Berücksichtigung der Fluidströmung enthält das Heat Transfer Module spezielle Physikinterfaces, über die Sie laminare und turbulente Strömungen modellieren können. Dabei kommen die k- ε -Turbulenzmodelle mit hoher und niedriger Reynoldszahl zum Einsatz. Bei allen Strömungsanwendungen werden durch Annahme einer nicht-isothermen Strömung die natürlichen Auftriebskräfte berücksichtigt, die aufgrund von Temperaturunterschieden entstehen. Durch eine Integration Ihrer Wärmetransportmodelle in das CFD Module lassen sich Fluidströmungen noch genauer simulieren. Hier finden Sie alternative Turbulenzmodelle und können Strömungen in porösen Medien oder Zweiphasenströmungen analysieren.
Das Heat Transfer Module enthält außerdem Funktionalitäten, mit denen sich die Modellierung der Konvektion für Fälle vereinfachen lässt, bei denen eine umfassende Modellierung der Strömungsdynamik keine höhere Genauigkeit ergibt oder aber computertechnisch zu aufwändig ist. Die Funktionalitäten werden über eine integrierte Bibliothek mit Wärmeübergangskoeffizienten bereitgestellt. Mit ihnen können Sie den Wärmetransport durch erzwungene oder natürliche Konvektion zwischen Systemumgebung und Rändern simulieren. Das Modul enthält außerdem Beziehungen für verschiedene geometrische Konfigurationen, wie beispielsweise Kamine oder Platten (vertikal, geneigt oder horizontal) und verschiedene externe Fluide (Luft, Wasser und Öl).
Wärmeübertragung in porösen Medien
Die Konzepte des Wärmetransports in frei fließenden Fluidströmungen (laminare und turbulente Strömungen) sind ausreichend bekannt. Das Heat Transfer Module enthält jedoch auch zuverlässige Interfaces für die Modellierung des Wärmetransports in porösen Medien, bei der sowohl Leitung als auch Konvektion in festen und offenporigen Phasen der porösen Matrix berücksichtigt werden. Zur Definition effektiver Wärmetransporteigenschaften können Sie verschiedene Näherungsansätze auswählen. Die Berechnung erfolgt dann automatisch anhand der jeweiligen Eigenschaften des Festkörper- und Fluidmaterials. Verfügbar ist auch eine vordefinierte Funktion für die Wärmeausbreitung in porösen Medien, die durch den gewundenen Weg der Fluide durch die Poren verursacht wird.
Biowärme
Für die Biowärmegleichung steht im Heat Transfer Module ein eigenes Physikinterface zur Verfügung. Das Biowärmetransport-Interface ist ein perfektes Tool zum Simulieren der thermischen Effekte im menschlichen Gewebe und in anderen biologischen Systemen, die durch Mikrowellen, Widerstand, chemische Reaktion oder Strahlung entstehen. Wie in der COMSOL-Umgebung üblich, können Sie auch hier die Temperaturänderungen auf die Materialeigenschaften in anderen Physikinterfaces zurückführen, wie beispielsweise die elektrischen Materialeigenschaften bei einer stark gekoppelten multiphysikalischen Simulation. Die Biowärmeerzeugung kann mit einer Vielzahl von Phasenwechselphänomenen (bis hin zur Gewebenekrose) kombiniert werden.
Phasenwechsel
Der Phasenwechsel ist bei Wärmetransportanalysen eine diskontinuierliche Eigenschaft. Auftreten können schwer voraussagbare Umformungen der transienten geometrischen Grenzfläche zwischen den Phasen, aber auch plötzliche Änderungen von Materialeigenschaften wie Leitfähigkeit, Wärmekapazität oder Fließverhalten. Diese können sich um Größenordnungen zwischen der festen, flüssigen und gasförmigen Phase unterscheiden. Beim Phasenwechsel entsteht zudem latente Wärme, die in vielen Wärmebilanzen dominiert. Dank vieler unterschiedlicher Funktionen und Benutzerinterfaces können Sie mit COMSOL Multiphysics und dem Heat Transfer Module diesen Diskontinuitäten Rechnung tragen. Mithilfe von beweglichen Netzen können Sie sogar Volumenänderungen modellieren. Unterstützt wird auch die automatische Definition von thermodynamischen Eigenschaften. Damit können Sie nicht nur plötzliche Änderungen von Materialeigenschaften berücksichtigen, sondern durch die Steuerung des Intervalls zwischen den Phasenwechseln auch die Kontinuität gewährleisten.
Thermischer Kontaktwiderstand
Wenn zwei Festkörperobjekte miteinander verbunden sind, hängt der Widerstand gegenüber dem Wärmetransport häufig davon ab, wie gut sie zusammengepresst sind und der entsprechenden Oberflächenrauigkeit. Durch die Rauigkeit entstehen zwischen den Flächen schmale Lücken, die eine Wärmeübertragung verhindern. Je fester die Flächen zusammengepresst sind, desto mehr nimmt die Anzahl der schmalen Lücken ab. Im Heat Transfer Module sind Physikinterfaces verfügbar, mit denen Sie den Kontakt-Wärmedurchgangskoeffizienten simulieren können, der von der angewandten Spannung und der spezifischen Leitfähigkeit in der Lücke, aber auch von der Strahlung zwischen den durch Lücken getrennten Flächen abhängt. Eine Integration der Wärmetransportmodelle in das Structural Mechanics Module ermöglicht eine direkte Kopplung von thermischen und mechanischen Aspekten des Kontakts (einschließlich thermische Ausdehnung).
Dünne Schichten und Schalenelemente
Ihre Geräte oder Prozesse bestehen häufig aus Materialien oder Bereichen, die geometrisch erheblich kleiner sind als die anderen Systemelemente. Dazu zählen dünne Kupferschichten auf Leiterplatten, die Wandung eines Druckkessels oder dünne Isolierungsschichten. Für die Simulation dieser Elemente stehen im Heat Transfer Module spezielle Modellierwerkzeuge zur Verfügung, die zudem die Computerressourcen schonen. In Situationen, in denen der Gradient der Wärmeübertragung nur in tangentialen Richtungen einer Schicht oder Wandung (und nicht über deren Dicke) von Bedeutung ist, kommen hochleitfähige Schalenelemente zum Einsatz. Dadurch entfällt die Notwendigkeit, die ganze Dicke der Schicht oder des Schalenelements zu vernetzen. Trotzdem werden die Lösungsergebnisse mit den 3D-Entitäten gekoppelt, mit denen die Schicht oder das Schalenelement verbunden ist. Hierbei kann es sich entweder um eine dünne Wand zwischen zwei größeren Bereichen, einen Bereich und seine Umgebung oder eine in die Oberfläche eines anderen Festkörpers eingebettete Schicht handeln. In vergleichbarer Weise bieten die Physikinterfaces für dünne wärmewiderstandsbehaftete Schichten eine einfache Möglichkeit, schlecht leitende Materialien darzustellen.
Heat Transfer Module
Product Features
Heat transfer by conduction including friction heating and thermal stresses and solid deformation
Conduction and convection in gases and liquids
Support for natural convection and nonisothermal flow
Conjugate heat transfer
Heat transfer in porous media through conduction in the solid phase and convection and conduction in the pores
Heat dispersion in porous media
Benchmarked bioheat model including tabulated data for blood perfusion rates and metabolic heat sources
Heat transfer in thin shells and highly-conductive layers
k-epsilon and low Reynold's k-epsilon turbulence models including for nonisothermal flow
Heat transfer from or to opaque surfaces through surface-to-ambient and surface-to-surface radiation
The emission, absorption and scattering of radiation in participating (or semitransparent) media
Resistive or Joule heating
Support for phase change including latent heats
Anisotropic conductivity coefficients and their computation on curvilinear coordinate systems
Full access to all postprocessing variables
Streamline, crosswind and isotropic diffusion stabilization methods for fluid flow, convective heat transport and heat sources
Interfaces for modeling moist air including a condensation detection indicator
Thermal contact modeling between surfaces through constriction conductance (Cooper-Mikic-Yovanovich and Mikic Elastic Correlation), gap conductance, and radiative conductance
Built-in variables for computing the Reynolds, Prandtl, Nusselt, Rayleigh, and Grashof numbers
Built-in relations to describe the heat transfer coefficients for vertical and inclined walls, and horizontal and parallel plates and tubes
Turbulent conductivity computed using the Kays-Crawford turbulence model
---
Application Areas
Arc welding
Bioheat treatment and thermal therapy
Casting and thermal processing
Disc brakes
Electronic cooling
Food processing, cooking, and sterilization
Friction stir welding
Furnace and burner design
Heat exchangers and cooling flanges
Laser welding and laser heating
Material heat treatment
Conjugate heat transfer
Drying and freeze drying
Heat transfer in porous media
Resistive and induction heating
Solidification
Energy efficiency in building and constructions
Power electronics and electronic cooling
Thermovoltaic cells
Thermal load
Shell and Tube Heat Exchanger Model Tutorial
This video shows how to build a working model of a cross-flow, one pass,
shell and tube heat exchanger
for the purpose of analyzing the heat transfer coefficient of the design as well as the tube and shell side pressure drops. In this model, two separate fluids at different temperature pass through the heat exchanger, flowing in opposite directions. In the shell of the heat exchanger, air enters at a velocity of 1m/s and a temperature of 5°C. Water enters the tube side with a velocity of 0.1 m/s and a temperature of 80°C. A k-epsilon turbulence model is used to analyze both the air and water flow profiles. The separating conducting material is assumed to be structural steel. The solution is checked for accuracy by analyzing the upside wall lift-off, which indicates that the model is accurate enough for the purpose of our analysis.
Heat Transfer Module
Numerical Simulation-Based Topology Optimization Leads to Better Cooling of Electronic Components in Toyota Hybrid Vehicles
Toyota Research Institute of North America, MI, USA
The Toyota Research Institute in Ann Arbor drives cutting-edge research in energy efficiency, mobility infrastructure, and safety. Here, Ercan Dede and his team are designing heat sinks (or cold plates), which are affixed to fragile electrical systems and other applications in Toyota's hybrid vehicles. Their simulations simulate the cold ...
Switching Made Easy
Matthias Richwin,
Leopold Kostal GmbH,
Dortmund, Germany
Modern cars offer a wide range of complex functionality that comes with several design challenges. This story discusses some of the necessary updates to a roof module in a premium car and the charging system of an electric car. The roof module of a particular model houses several components. 90% of the generated heat goes into its printed circuit ...
Keeping LEDs Cool Gets More Manageable Through Simulation
Aulis Tuominen and Mika Maaspuro
University of Turku
Turku, Finland

Toni Lopez
Philips Research
Eindhoven, The Netherlands

Sami Yllikäinen
Hella Lighting Finland Oy
Salo, Finland

Raimo ...
Light-emitting diodes (LEDs) offer many benefits over incandescent lighting, such as long life spans and high luminous efficiency, and they are environmentally friendly. One of the drawbacks, however, is that LEDs need to operate at the lowest possible temperatures and this must be carefully regulated. Researchers at Business and Innovation ...
Conjugate Heat Transfer
Luke T. Gritter, Jeffrey S. Crompton, Sergei Yushanov, and Kyle C. Koppenhoefer
AltaSim Technologies
Columbus, OH
USA
This is an application brief describing the concept of Conjugate Heat Transfer, which is important in many industrial processes, such as quenching. In this brief, they simulate the heat transfer with and without phase transformation to analyze the rate of heat dissipation with respect to the flow conditions of the coolant media. The fluid flow ...
Multiphysics Simulation Helps Miele to Optimize Induction Stove Designs
Christian Schröder
mieletec FH Bielefeld
Germany

Holger Ernst
Miele
Germany
The induction stove was designed to meet a consumer need for better precision and speed than traditional stoves. Designers were tasked with improving the energy efficiency of the induction coils-stovepot interaction considering both the thermal and electromagnetics of the system. Miele, a world leader in domestic appliances and commercial ...
Multiphysics Software, a Versatile, Cost-Effective R&D Tool at Sharp
Chris Brown
Sharp Laboratories of Europe, UK

There are several kinds of technology that designers at Sharp Laboratories of Europe work to create. From LED lighting, displays, and microfluidic lab-on-a-chip technology, to complex energy systems used in various devices, Sharp needed a new approach to finding the best designs. COMSOL Multiphysics and its add-on products provided the versatility ...
Battery Simulation Propels Electric Cars in China
Dr. Songrui Wang

Tianjin Institute of Power Sources, Tianjin, China
Dr. Songrui Wang is a researcher at The Tianjin Institute of Power Sources, involved in battery testing and evaluation for design recommendations on safety. She analyzes the risk of potential fire hazards associated with lithium ion batteries, which are fast becoming the most popular sort of battery for vehicles, mobile devices, and many other ...
Understanding the Origin of Uncertainty in Thermometer Calibration
Jonathan Pearce
National Physical Laboratory
UK
Thermometers have widespread application and like any measurement device, they must be calibrated. Many do this with the International Temperature Scale of 1990 (ITS-90), which is a platinum resistance thermometer that calibrates using a fixed point cell, which is a container with a well running through its center for insertion of the thermometer. ...
Around the Clock Solar Power
ENEL, Rome, Italy
Italian utility ENEL and the Italian National Agency for New Technologies joined together to develop a new kind of Concentrating Solar Power (CSP), using Parabolic Trough CSP to generate electricity during sunny hours as well as under overcast conditions or at night. This new type of CSP plant depends on molten salt as a medium for storing heat in ...
Simulation-Based Engineering Fosters Innovation and Invention
Ozgur Yildirim and Zihong Guo
Intellectual Ventures
Bellevue, WA
Simulation-based engineering is the key to shortening time to market for innovations. Intellectual Ventures, in Bellevue, WA, is reaping the benefits of using COMSOL Multiphysics to accelerate their workflow from design study to prototype, and then on to their customers as inventions through various partnerships and licensing programs. Projects ...
Multiphysics Analysis of a Burning Candle
Luke T. Gritter, Sergei Yushanov, Jeffrey S. Crompton, and Kyle C. Koppenhoefer

AltaSim Technologies, Columbus, Ohio
Using COMSOL Multiphysics, AltaSim Technologies were able to predict the temperature distribution and flow pattern of a burning flame during steady state candle burning. In a burning candle, local temperatures in the flame exceed 1400 °C. The heat transfer would include radiation, conduction, and convection components while the low melting ...
When it's Impossible to Take Actual Measurements, Simulations Provide the Answers
Simon Chiartano,
Terres Réfractaires du Boulonnais (TRB), France
To contain splashes and provide protection at plants where metal is fabricated, blast furnace runners need a roof made of cast iron and concrete. Terres Réfractaires Du Boulonnais, a manufacturing company in France, has hundreds of blast furnaces with a short functional lifespan, so engineers need to design roof runners as economically as ...
COMSOL Assists Master Chef in Winning International Competition
Dagbjorn Skipnes

Nofima Norconserv AS,
Stavanger, Norway

Nofima is a research group majority owned by the Ministry of Fisheries that performs research and development in aquaculture, fisheries, and the food industry. Nofima collaborated with the Norwegian Centres of Expertise – Culinology and Chef Gunnar Hvarnes to promote halibut through a cooking competition and provided research to ensure a new ...
Cluster Simulation of Refrigeration Systems
Stephen Codyer & Mehdi Raessi
Department of Mechanical Engineering
UMass Dartmouth
Dartmouth, MA

Jessica Currie & Vladimir GoldsteinSunwell Technologies, Inc., Woodbridge
ON, Canada
Sunwell Technologies Inc. produces and distributes the slurry ice (Deepchill™) that is an environmentally-friendly way to refrigerate foods and other items in trucks and the like. They commissioned the Computational Multiphase Flows group at the University of Massachusetts, Dartmouth (UMass Dartmouth) to provide simulation support to the ...
Optimization Slashes Energy Consumption in Silicon-Based MEMS CO2 Detectors
Serge Gidon

CEA, Leti, Minatec, Grenoble, France

CEA-MINATEC is an international center for micro and nano-technologies which is funded by CEA, a French government-funded technological research organization. One of their current projects is developing silicon-based MEMS CO2 sensors that employ optical detection for monitoring adequate building ventilation. For the sensor to function, a filament ...
Numerical Simulation-Based Topology Optimization Leads to Better Cooling of Electronic Components in Toyota Hybrid Vehicles
Switching Made Easy
Keeping LEDs Cool Gets More Manageable Through Simulation
Conjugate Heat Transfer
Multiphysics Simulation Helps Miele to Optimize Induction Stove Designs
Multiphysics Software, a Versatile, Cost-Effective R&D Tool at Sharp
Battery Simulation Propels Electric Cars in China
Understanding the Origin of Uncertainty in Thermometer Calibration
Around the Clock Solar Power
Simulation-Based Engineering Fosters Innovation and Invention
Multiphysics Analysis of a Burning Candle
When it's Impossible to Take Actual Measurements, Simulations Provide the Answers
COMSOL Assists Master Chef in Winning International Competition
Cluster Simulation of Refrigeration Systems
Optimization Slashes Energy Consumption in Silicon-Based MEMS CO2 Detectors
Heat Transfer Module
Heat Sink
This model is intended as a first introduction to simulations of fluid flow and conjugate heat transfer. It shows you how to: Draw an air box around a device in order to model convective cooling in this box. Set a total heat flux on a boundary using automatic area computation. Display results in an efficient way using selections in data sets.
Phase Change
This example demonstrates how to model a phase change and predict its impact on a heat transfer analysis. When a material changes phase, for instance from solid to liquid, energy is added to the solid. Instead of creating a temperature rise, the energy alters the material's molecular structure. Equations for the latent heat of phase changes ...
Forced and Natural Convection Cooling of Circuit Boards
The suite of models examine the air cooling of circuit boards populated with multiple integrated circuits (ICs), which act as heat sources. Two possible cooling scenarios are depicted: vertically aligned boards using natural convection, and horizontal boards with forced convection (fan cooling). In this case, contributions caused by the induced ...
Tin Melting Front
This example demonstrates how to model phase transition by a moving boundary interface according to the Stefan problem. A square cavity containing both solid and liquid tin is submitted to a temperature difference between left and right boundaries. Fluid and solid parts are solved in separate domains sharing a moving melting front. The position ...
Laser Heating of a Silicon Wafer
A silicon wafer is heated up by a laser that moves radially in and out over time. In addition, the wafer itself is rotated on its stage. The incident heat flux from the laser is modeled as a spatially distributed heat source on the surface. The transient thermal response of the wafer is shown. The peak, average, and minimum temperature during the ...
Heating Circuit
Small heating circuits find use in many applications. For example, in manufacturing processes they heat up reactive fluids. The device used consists of an electrically resistive layer deposited on a glass plate. The layer causes Joule heating when a voltage is applied to the circuit. The layer's properties determine the amount of heat ...
Shell-and-Tube Heat Exchanger
Shell-and-tube heat exchangers are commonly used in oil refineries and other large chemical processes. In this model, two separated fluids at different temperatures flow through the heat exchanger, one through the tubes (tube side) and the other through the shell around the tubes (shell side). Several design parameters and operating conditions ...
Thermo-Photo-Voltaic (TPV) Cell
This model illustrates an application that maximizes surface-to-surface radiative fluxes and minimizes conductive heat fluxes. A thermo-photo-voltaic (TPV) cell generates electricity from the combustion of fuel and through radiation. The fuel burns inside an emitting device that radiates intensely. Photo-voltaic (PV) cells—almost like solar ...
Fluid-Structure Interaction in Aluminum Extrusion
In massive forming processes like rolling or extrusion, metal alloys are deformed in a hot solid state with material flowing under ideally plastic conditions. Such processes can be simulated effectively using computational fluid dynamics, where the material is considered as a fluid with a very high viscosity that depends on velocity and ...
Isothermal and Non-Isothermal Heat Exchangers
The example concerns a stainless-steel MEMS heat exchanger, which you can find in lab-on-a-chip devices in biotechnology and in microreactors such as for micro fuel cells. This model examines the heat exchanger in 3D, and it involves heat transfer through both convection and conduction. The model solves for the temperature and heat flux in the ...
Heat Sink
Phase Change
Forced and Natural Convection Cooling of Circuit Boards
Tin Melting Front
Laser Heating of a Silicon Wafer
Heating Circuit
Shell-and-Tube Heat Exchanger
Thermo-Photo-Voltaic (TPV) Cell
Fluid-Structure Interaction in Aluminum Extrusion
Isothermal and Non-Isothermal Heat Exchangers