Multibody Dynamics Module
Multibody Dynamics Module
Zur Analyse von Baugruppen starrer und flexibler Körper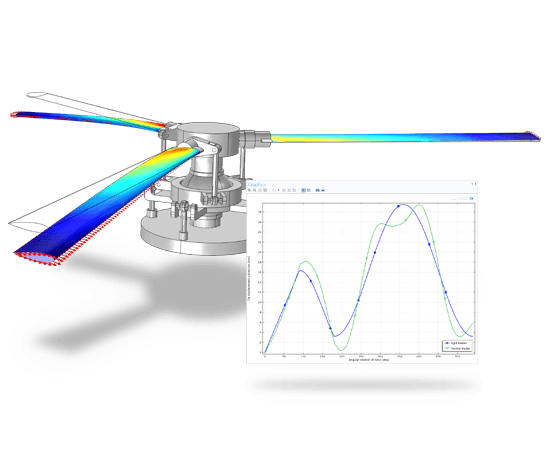 Analyse des Taumelscheibenmechanismus zur Steuerung der Ausrichtung der Hubschrauber-Rotorblätter. Eine zeitabhängige Simulation mit starrer und flexibler Rotorblattkonstruktion ermöglicht einen Einblick in nützliche Leistungsmessgrößen wie Blattverformung und Auftriebskräfte.
Tools für Konstruktion und Optimierung von Mehrkörpersystemen
Das Multibody Dynamics Module ist eine Erweiterung des Structural Mechanics Module und enthält hochentwickelte Tools für die Konstruktion und Optimierung von strukturmechanischen Mehrkörpersystemen mithilfe der Finite-Elemente-Analyse (FEA). Das Modul ermöglicht Systeme zu simulieren, die aus flexiblen und starren Körpern bestehen, wobei jeder Körper große Verschiebungen durch Rotation und Transmission erfahren kann. Solche Analysen helfen, kritische Punkte in den Mehrkörpersystemen zu erkennen und detailliertere Strukturanalysen auf Bauteilebene auszuführen. Das Multibody Dynamics Module bietet auch die Möglichkeit, Kräfte und Spannungen zu untersuchen, die auf flexible Struktursegmente einwirken, wo beispielsweise eine zu große Verformung oder Ermüdung zu Strukturversagen führen kann.
Nutzung einer Gelenkbibliothek
Das Modul ist mit einer vordefinierten Gelenkbibliothek ausgestattet. Daraus können Sie einfach und zuverlässig eine geeignete Verknüpfung zwischen unterschiedlichen Bauteilen eines Multikörpersystems auswählen, bei der die Bauteile bzw. Komponenten so miteinander verbunden sind, dass nur noch eine bestimmte Bewegungsart zwischen ihnen möglich ist. Gelenke zwischen zwei Bauteilen lassen sich mithilfe von Anschlüssen herstellen, wodurch sich ein Bauteil zum Beispiel frei im Raum bewegen kann, während das andere so mit Zwangsbedingungen versehen ist, dass es einer bestimmten, vom Gelenktyp abhängigen Bewegung folgt. Die Gelenktypen im Multibody Dynamics Module sind exemplarisch ausgelegt. Daher kann mit ihnen nahezu jede beliebige Verbindungsart modelliert werden. Forscher und Ingenieure haben somit die Möglichkeit, mit folgenden Gelenktypen präzise strukturmechanische Mehrkörpermodelle zu konstruieren:
Weitere Bilder
Bewegungsausrichtung für das prismatische Gelenk sowie das Winkel-, Zylinder- und Schraubgelenk.
Bewegungsausrichtung für das planare Gelenk sowie das Kugel-, Kugelschub- und Drehschubgelenk
Vollständige Flexibilität bei der Mehrkörperanalyse
Verformbare Komponenten eines Systems können als flexible Bauteile modelliert werden, während andere Bauteile oder nur Teile davon sich als starr definieren lassen. Sie haben auch die Möglichkeit, dynamische Mehrkörperkonstruktionen und Analysen mit nichtlinearen Materialeigenschaften zu versehen, indem Sie Modelle im Multibody Dynamics Module entweder mit dem Nonlinear Structural Materials Module oder dem Geomechanics Module kombinieren. Darüber hinaus können Sie die physikalischen Phänomene, die Sie mit COMSOL Multiphysics und der ganzen Palette anwendungsspezifischer Module modellieren, mit den im Multibody Dynamics Module dargestellten Phänomenen koppeln, wie beispielsweise Auswirkungen von Wärmeübertragung oder elektrischen Phänomenen.
Es ist möglich zeitabhängige und stationäre Mehrkörperdynamikanalysen sowie Eigenfrequenz- und Frequenzbereichsanalysen auszuführen. Den Gelenken können lineare Federn/Drehfedern mit Dämpfungseigenschaften, Kräfte und Momente sowie vorgeschriebene Bewegungen als Zeitfunktion zugewiesen werden. Folgende Analyse- und Nachbearbeitungsfunktionen sind verfügbar:
Relative Verschiebung/Rotation zwischen zwei Bauteilen und deren Geschwindigkeiten
Reaktionskräfte und -momente an einem Gelenk
Lokale und globale Koordinatensysteme als Bezugssystem
Spannungen und Verformungen in flexiblen Körpern
Ermüdungsanalyse wichtiger flexibler Körper in Kombination mit dem Fatigue Module
Prismatisches Gelenk (3D, 2D)
Winkelgelenk (3D, 2D)
Zylindergelenk (3D)
Schraubgelenk (3D)
Planares Gelenk (3D)
Kugelgelenk (3D)
Kugelschubgelenk (3D)
Drehschubgelenk (3D, 2D)
Der Bewegungsspielraum zwischen verschiedenen Bauteilen kann durch andere Objekte oder deren Funktionen eingeschränkt werden Es ist möglich, die relative Bewegung von Gelenken zueinander einzuschränken oder zu blockieren, um selbst komplexe Systeme vollständig zu definieren und zu modellieren. Auf dem Gebiet der Robotik beispielsweise kann die relative Bewegung zwischen zwei Armen mit einer vordefinierten Zeitfunktion festgelegt werden. Gelenke können außerdem mit Federn versehen sein. Auch entsprechende Dämpfungsfaktoren werden im Multibody Dynamics Module berücksichtigt.
Multibody Dynamics Module
Product Features
Joints can be constrained to restrict the relative motion between the two connected components
Joints can be locked to freeze the relative motion between the two connected components at the specified value
Spring conditions can be applied on the relative motion at a joint, either at the equilibrium or with pre-deformation
Damping or dashpot conditions can be defined to specify losses on the relative motion at a joint
Joints can be required to prescribe the relative motion between the connected components
Forces and moments can be applied to all types of joints at the attachments to the components
Mechanisms can be initialized to translate and rotate rigidly with the given velocities about the specified center of rotation
---
Application Areas
Aerospace
Automotive
Engine dynamics
Mechatronics
Robotics
Biomechanics
Biomedical instruments
Vehicle dynamics
General dynamic simulations of mechanical assemblies
Multibody Analysis Tutorial
The video has the following chapters:
Multibody Dynamics Module
Modeling of a Gyroscope
This model illustrates the working of a gyroscope used to measure or maintain an orientation. Its operation is based on on the principles of conservation of angular momentum. In this model, all the components are modeled as rigid bodies. Hinge joints are used to establish a connection between different parts. The orientation of the spinning disc ...
Helicopter Swashplate Mechanism
This model illustrates the operation of a swashplate mechanism used in helicopters to translate the input of helicopter flight control into the motion of the rotor blades, and hence controls the orientation of the rotor blades. In this model, the rotor blades are modeled as either rigid bodies or flexible bodies in two different cases. All other ...
Mechanical Assembly with Hinge Joint
This example illustrates how to model a barrel hinge connecting two solid objects in an assembly. In this model, the details of the connection are not the focus of the analysis, therefore, the hinge joint is modeled using a Joint feature in the Multibody Dynamics Module. The connected parts can be either rigid or flexible or a combination as shown ...
Three-Cylinder Reciprocating Engine
In this example, a dynamic analysis of a three-cylinder reciprocating engine is performed to investigate stresses generated during operation, thereby permitting identification of the critical components. Demand for high power output relative to the weight of the engine requires careful design of its components. This model of a reciprocating ...
Stresses and Heat Generation in a Landing Gear Mechanism
This model simulates the dynamics of the shock absorber used in a landing gear mechanism of an aircraft. It analyses the stresses, as well as the heat generated in the landing gear components due to the energy dissipated in the shock absorber. A prismatic joint, with spring and damper, is used to model the shock absorber assembly.
Dynamics of a Double Pendulum
This is a tutorial model that shows how to model a hinge joint and use additional functionality including constraints, locking, spring-damper and prescribed motion. The model illustrates the nonlinear dynamics of the double pendulum. Locus of the tip of the lower arm and the phase space curve are plotted to demonstrate the chaotic behavior ...
Spring Loaded Centrifugal Governor
A centrifugal governor is used to control the speed of rotating machinery. One of the most common applications is in controlling the RPM of an engine by regulating the fuel supply. This model illustrates the functioning of a spring loaded centrifugal governor. The dynamics of the governor are analyzed under the influence of a centrifugal ...
Slider Crank Mechanism
This is a benchmark model to test the numerical algorithms in the area of multibody dynamics. This model simulates the dynamic behavior of the slider crank mechanism. This mechanism goes through singular positions during its operation. The acceleration at a point is compared with the results from the reference.
Dynamic Behavior of a Spring Loaded Rotating Slider
This model illustrates the modeling of slider motion caused by a base rotation. The motion of the slider is analyzed under various forces such as inertia force, centrifugal force, spring force and damping force. The prismatic joint, which is used to connect the two components, is spring loaded and also includes damping effects. The motion of ...
Modeling of a Gyroscope
Helicopter Swashplate Mechanism
Mechanical Assembly with Hinge Joint
Three-Cylinder Reciprocating Engine
Stresses and Heat Generation in a Landing Gear Mechanism
Dynamics of a Double Pendulum
Spring Loaded Centrifugal Governor
Slider Crank Mechanism
Dynamic Behavior of a Spring Loaded Rotating Slider