Heat has a powerful effect on the operation and lifespan of electronic devices. Introducing components like heat sinks within these electronic systems helps maintain cooler temperatures and promotes healthy performance. As we demonstrate with our disk-stack heat sink example, simulation is a powerful tool for analyzing the efficiency of heat sink designs.
Read more
---

Keeping buildings cool in the summer and warm in the winter is a major drain on energy resources. In search of a more cost-effective and energy-efficient way to heat and cool buildings, researchers at Fraunhofer ISE continuously work to develop adsorption-based systems that run on solar energy, natural gas, and industrial waste. Using COMSOL Multiphysics® simulation software, the team investigates the adsorption process, heat exchanger design, and numerous other systems that affect their innovative developments in adsorption technology.
Read more
---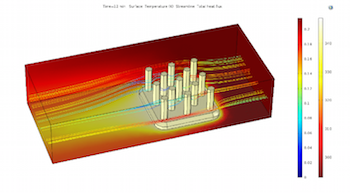 As a technical support engineer, one of the most common technical questions I receive is: "How can I compute the mass conservation of a fluid flow simulation or the energy balance of a conjugate heat transfer simulation?" This is often requested to investigate and ensure a simulation's accuracy. Here, I will demonstrate how to perform these calculations in COMSOL Multiphysics and introduce some of the predefined variables available for postprocessing the energy rate terms of the energy balance equation.
Read more
---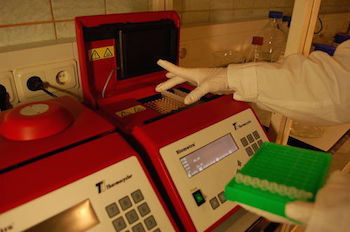 Polymerase chain reaction tests have many applications within medical and biological research. In the past, these tests have been performed within a laboratory setting due to their high power requirements and the slow speed at which results are delivered. Researchers at the University of California, Berkeley have developed a new LED-based polymerase chain reaction system that, with its simplicity and speed, could be used in point-of-care testing.
Read more
---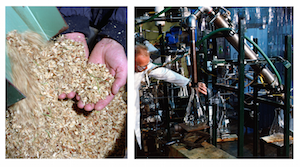 Biofuels are recognized as a valued source of renewable energy, with applications ranging from heating buildings to powering transportation. Increasing the availability of these fuels requires an understanding of the processes behind biomass conversion. With the help of COMSOL Multiphysics® simulation software, researchers at NREL are seeking to optimize such processes, making biofuel conversion more efficient and cost-effective.
Read more
---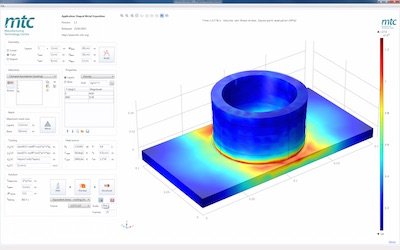 3D printing has emerged as a popular manufacturing technique within a number of industries. The growing demand for this method of manufacturing has prompted greater simulation research behind its processes. Engineers at the Manufacturing Technology Centre (MTC) have identified their customers' interest in a particular additive manufacturing technique known as shaped metal deposition. By building a simulation app, the team is better able to meet the demands of their customers while delivering more efficient and effective simulation results.
Read more
---

Phase change energy storage is an effective approach to conserving thermal energy in a number of applications. An important element in the efficiency of this storage process is the melting rate of the phase-change material, the storage medium. Using the principle of the constructal law as their foundation, a team of researchers sought to advance the performance of these storage systems.
Read more
---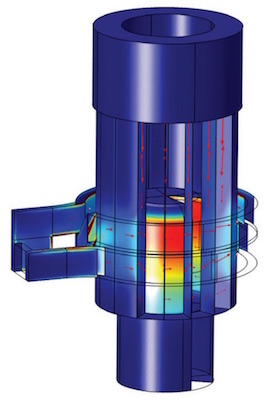 Solar energy is created by combining sunlight with a semiconducting material, often silicon. But solar, or photovoltaic, cells require such a high-quality silicon that the manufacturing process is complicated and costly. As a photovoltaic material producer and furnace manufacturer, EMIX turned to COMSOL Multiphysics® simulation software to optimize their cold crucible continuous casting (4C) process and create the silicon needed for a more efficient solar-powered world.
Read more
---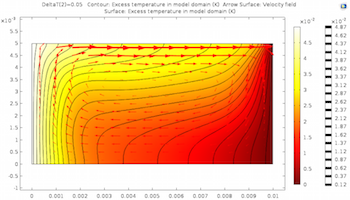 Previously on the blog, we introduced you to the tears of wine phenomenon and its cause — the Marangoni effect. This effect results from a gradient of surface tension at the interface between two phases. In situations where a surface gradient is temperature dependent, the Marangoni effect is referred to as Marangoni convection. Here, we will demonstrate how to analyze Marangoni convection in COMSOL Multiphysics and easily separate effects, such as gravity, in your simulations.
Read more
---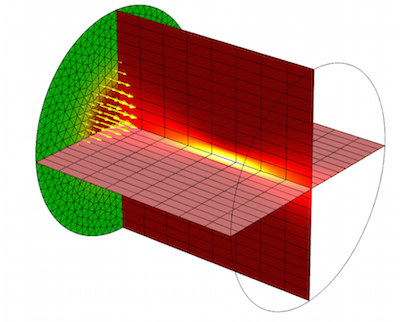 A question that we are asked all of the time is if COMSOL Multiphysics can model laser-material interactions and heating. The answer, of course, depends on exactly what type of problem you want to solve, as different modeling techniques are appropriate for different problems. Today, we will discuss various approaches for simulating the heating of materials illuminated by laser light.
Read more
---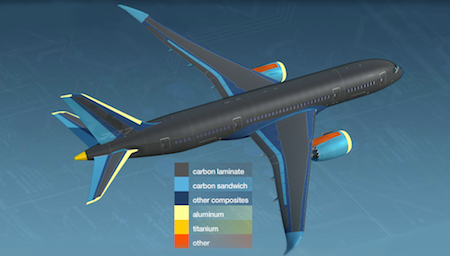 At Boeing, innovation comes in the form of modern aircraft such as the 787 Dreamliner, whose body is made up of over 50% carbon fiber composite. While incredibly lightweight and strong, such aircraft composites are not inherently conductive, thus requiring additional protective coatings to mitigate lightning strike damage. Here, we describe how multiphysics simulation is used to evaluate thermal stress and displacement in the protective coatings that undergo temperature fluctuations associated with the typical flight cycle.
Read more
---
Get new posts by email
---
Categories
---
Tags