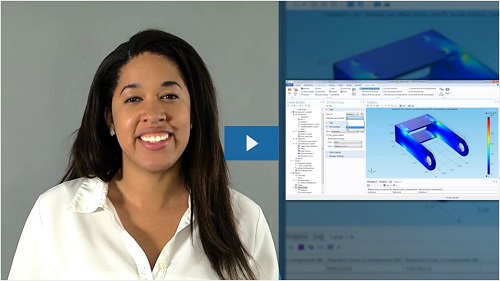 I have great news for anyone who is eager to learn the fundamentals of simulating structural mechanics in COMSOL Multiphysics. We have just published a completely revamped version of our video tutorial on the static bracket model. COMSOL Multiphysics version 4.4 and the Structural Mechanics Module are used to analyze the resultant forces, stresses, and deformations that occur on solid structures that are subjected to external loads.
Read more
---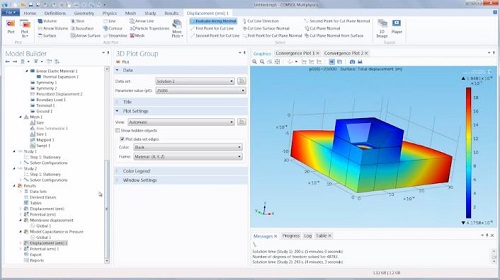 If you are searching for a tutorial on how to model a miniaturized 3D electromechanics problem, then look no further. We have just published an updated version of our video tutorial on how to simulate a capacitive pressure sensor. COMSOL Multiphysics version 4.4 and the MEMS Module are used to simulate the electrostatic, structural, and thermal physics that occur.
Read more
---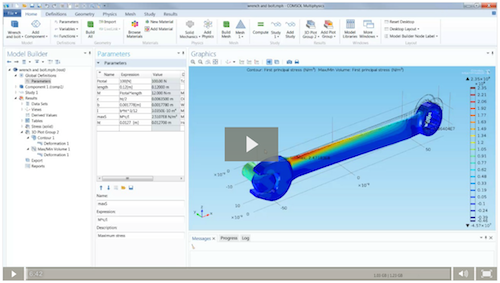 We have made a video tutorial for those of you who want to learn how to model stresses and strains in COMSOL Multiphysics. In under five minutes, we walk you through the modeling steps from setting up parameters and geometry to postprocessing the results. For simplicity's sake, we use a wrench and bolt model to demo the concept.
Read more
---

It's no news that accurate mechanical analysis is key to avoiding product failure and manufacturing issues. What may be new is how you do it. Simulation software offers a modern approach to analyzing mechanical component and system designs. Watch this video to learn how COMSOL Multiphysics enables you to speed up time-to-market and optimize product designs.
Read more
---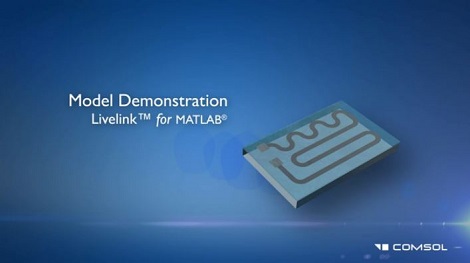 Did you know that you can use MATLAB® functions in your COMSOL Multiphysics® models? Well, you can, and in this video tutorial we will show you how, using LiveLink™ for MATLAB®.
Read more
---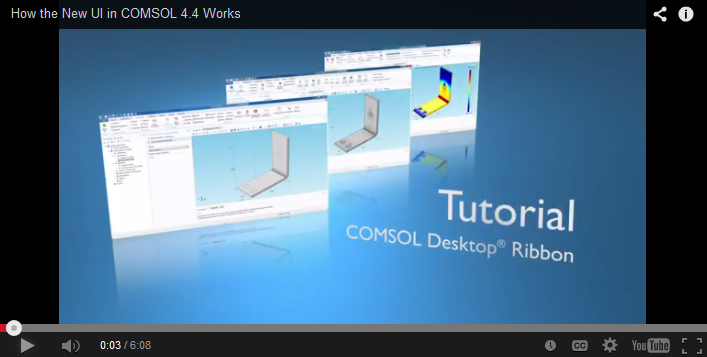 Each COMSOL release aims to create a better modeling experience for our users, usually in the form of new add-on modules and new functionality in existing products. COMSOL 4.4 brings you all that, but it also includes another significant change: a brand new user interface (UI). The new UI contains a ribbon at the top of the interface (for our Windows® users) to make your modeling easier and faster. The ribbon gives you direct access to the functions you would […]
Read more
---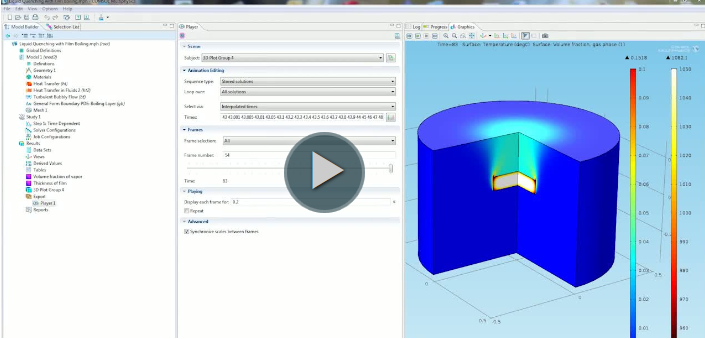 The process of quenching a red-hot metal object in a cool liquid bath is simple in practice, but highly complicated when creating a simulation. There are several phases of liquid quenching, and here we will focus on the initial phase: film boiling. In the accompanying video, COMSOL Certified Consultant AltaSim Technologies details the steps taken to model a nickel superalloy puck that is quenched in a tub of oil.
Read more
---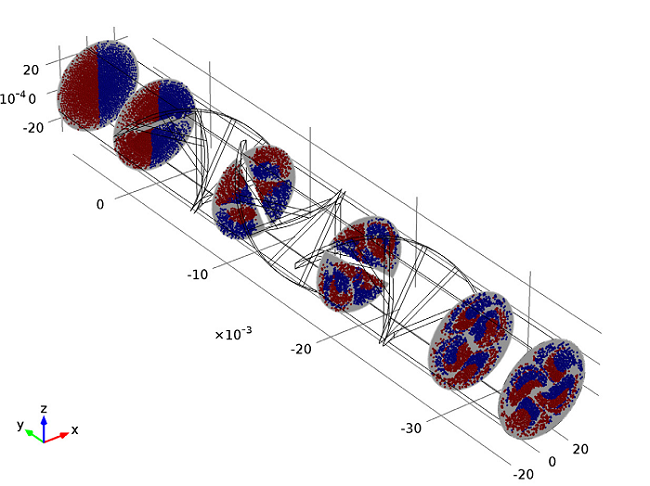 Laminar static mixers are used for the accurate mixing of fluids (both liquid and gas). Unlike a mixer containing moving blades, a static mixer contains twisted stationary blades that are positioned at different angles throughout the cylindrical flow channel of the mixer. When a fluid is pumped through the channel, the alternating directions of the cross-sectional blades cause the fluid to become mixed as it passes along the length of the channel. This mixing technique allows for precise control over […]
Read more
---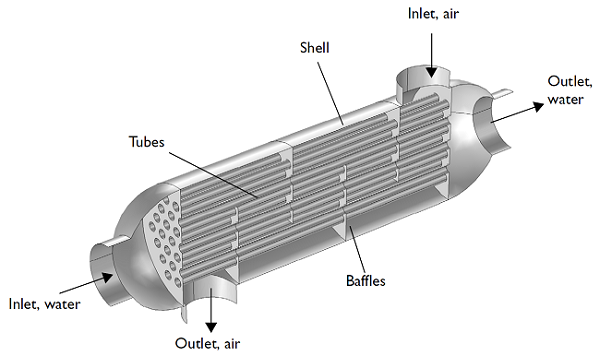 Shell and tube heat exchangers are one of the most widely used type of heat exchanger in the processing industries (65% of the market according to H. S. Lee's book, Thermal Design) and are commonly found in oil refineries, nuclear power plants, and other large-scale chemical processes. Additionally, they can be found in many engines and are used to cool hydraulic fluid and oil. There are a variety of different configurations for these heat exchangers, but their basic concept can […]
Read more
---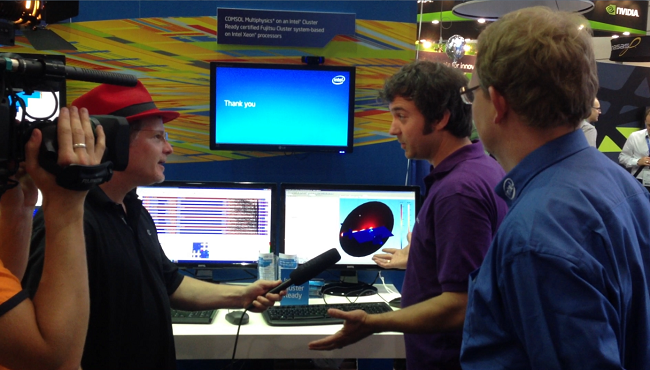 In June it was time for the International Supercomputing Conference (ISC) in Leipzig, Germany. Many of the largest hardware and software vendors for High Performance Computing (HPC) were there to present new equipment, and the latest TOP500 list, a list of the fastest supercomputers, was presented as well. In a world where we continuously demand faster computations and higher resolution in our models, it's not only necessary to have better hardware; we also need software that can handle the ever-growing […]
Read more
---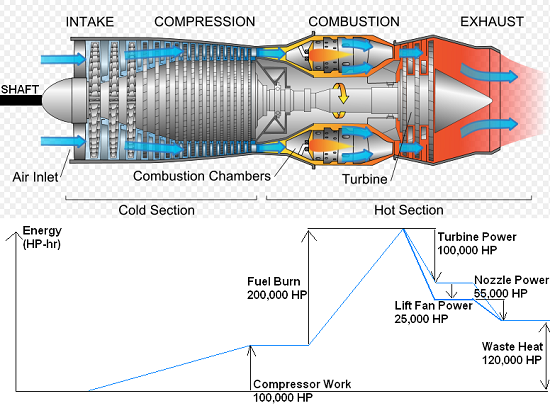 Technology and mechanics enthusiasts might agree that engines are very cool — and they also know how fussy they get when running into cooling problems. When it comes to aircraft propulsion, overheating is not an option. Most planes can't fly safely without an engine, so why run the risk of overheating? While current engine designs limit that risk using clever cooling systems, another path to solve this problem would be to design more energy-efficient engines, exempt from excessive heat release. […]
Read more
---
Get new posts by email
---
Categories
---
Tags