Three Reasons Why You Should Attend Multiphysics Workshops
The overarching reason why you should attend one of our multiphysics workshops is of course that you get to see COMSOL Multiphysics in action. Thinking that sounded great, albeit a bit lofty, I asked my colleague Lauren Sansone who oversees our corporate events, to spell it out more concretely. Her three reasons why you should attend are as follows:
You will receive a 2-week trial of COMSOL Multiphysics software
You get to set up and build your own model
You can ask questions to one of our engineers on-the-spot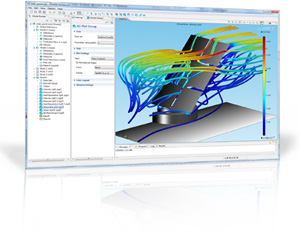 Did you know…?
If you've never attended one of our multiphysics workshops before, you might wonder what they're all about. (What kind of "work" goes into a workshop? How long are they? Where are they? Do they cost money?) Let me explain. First of all, workshops are free-of-charge. Don't pay us a dime; just pay attention. We do ask that you come see us in person, but before you close down your browser, hear me out on this. In an age where most things can be done online, some things are still better done in person. Our workshops only run for three hours, so you won't have to commit a full day while still have enough time to get oriented with the capabilities of COMSOL Multiphysics.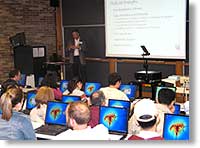 Our workshops are structured around two main events. First, the COMSOL engineer will introduce the software and give you a brief history of the company. He or she will also perform a live demo, showcasing the core capabilities of COMSOL Multiphysics, and perhaps divulge some tips and tricks in the process. Then, attendees will be walked through setting up and building their own model from scratch. This in combination with being able to take the model home to play with it on their own time, is typically the aspect of the workshop attendees enjoy most. Still not sure if COMSOL is right for you? Just ask. The casual environment provides a great forum for asking the instructor questions.
Upcoming COMSOL Multiphysics Workshops
You might be wondering who attends our workshops, and I can tell you that we see a range of people show up to learn more. Some have never even done simulations before, others have but not specifically using COMSOL Multiphysics. Workshops are not only for those who have never used COMSOL before, though. Current users tend to show up to learn more about new features that are added with a new version of the software. As Lauren put it, "it doesn't hurt to come test out new features". We also make sure to plan application-specific workshops throughout the year. Some of these will have the same intro as the general workshops, but the model you will build pertains to a specific application area. A second variation of these application-specific workshops are more tutorial-based. Here, you get to learn the ins and outs of the software. It is advised to take an introductory workshop before one of these application-oriented events.
COMSOL Multiphysics workshops are hosted around the world:
All of our workshops are free, but please let us know in advance that you're planning on showing up by filling out a registration form.
---