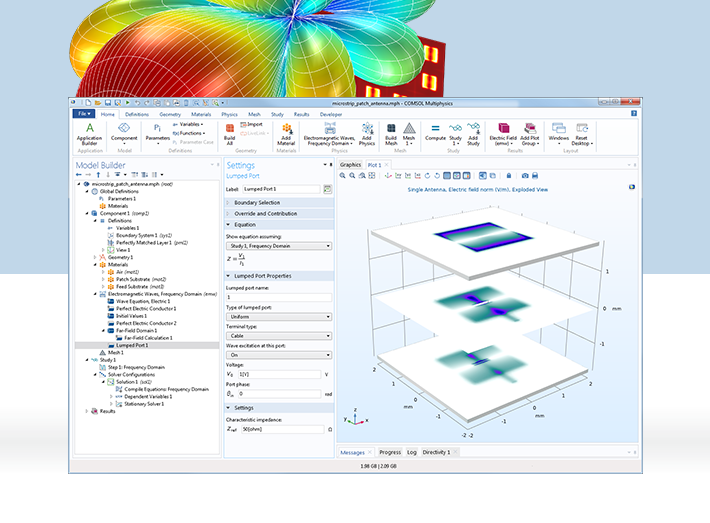 You are invited to join us at COMSOL Day Bethesda for a day of multiphysics modeling training, talks by invited speakers, and the opportunity to exchange ideas with other simulation specialists in the COMSOL community.
View the schedule for minicourse topics and presentation details. Register for free today.
Schedule
9:00am
Introduction to COMSOL Multiphysics® and the Model Builder
This introductory demonstration will show you the fundamental workflow of the COMSOL Multiphysics® modeling environment. We will cover all of the key modeling steps, including geometry creation, setting up physics, meshing, solving, and postprocessing.
10:00am
Invited Speakers
Vasudevan Venkateshwaran, W. L. Gore and Associates
Accelerating Development Using COMSOL Server™
The theory, modeling, and simulation teams at Gore develop many mathematical models and simulation tools that play a very important role in guiding new technology development. A major challenge that we face is deploying these tools for broader use across the enterprise, including our research centers in Europe and Asia. In this talk, I will discuss how we address this problem using the COMSOL Server™ product and our experience in using it over the last year. I will also discuss what advantages and limitations we have seen during our use and potential new capabilities that would enhance user experience.
Bjorn Sjodin, COMSOL, Inc.
Release Highlights COMSOL® Software Version 5.3
COMSOL's latest release, version 5.3, contains new functionality that will benefit all users. Learn about the most important news that will help you increase your modeling productivity.
11:00am
Introduction to the Application Builder and COMSOL Server™
Learn how to convert a model into a custom app using the Application Builder, which is included in the COMSOL Multiphysics® software. You can upload your apps to a COMSOL Server™ installation to access and run the apps from anywhere within your organization.
2:00pm
Parallel Training
Solvers Minicourse
Learn the fundamental numerical techniques and underlying algorithms related to linear and nonlinear multiphysics simulations. We will cover the difference between iterative and direct solvers as well as the different study types including stationary, transient, and eigenfrequency analysis.
3:00pm
Parallel Training
Meshing Minicourse
Learn about the meshing techniques that are available to you in the COMSOL Multiphysics® software. We will introduce you to basic meshing concepts, such as how to tweak the meshing parameters for unstructured meshes. More advanced topics include working with swept meshes and creating mesh plots.
Invited Speakers
Bjorn Sjodin
COMSOL, Inc.
Bjorn Sjodin is the VP of product management at COMSOL. He has been with COMSOL since 1995 and started out as a member of the development team in Stockholm, Sweden. He joined the COMSOL office in Burlington in 2002.
Vasudevan Venkateshwaran
W. L. Gore and Associates
Vasudevan Venkateshwaran currently works as a research scientist at W. L. Gore and Associates. There, he develops mathematical models and simulation tools to facilitate product development and data analytics as well as meet a variety of technology R&D needs. He graduated with a PhD in chemical engineering from Rensselaer Polytechnic Institute, where he applied statistical physics and molecular simulation methods to study soft condensed matter systems.
Register for COMSOL Day Bethesda
This event has ended. Visit the event calendar to view upcoming events.