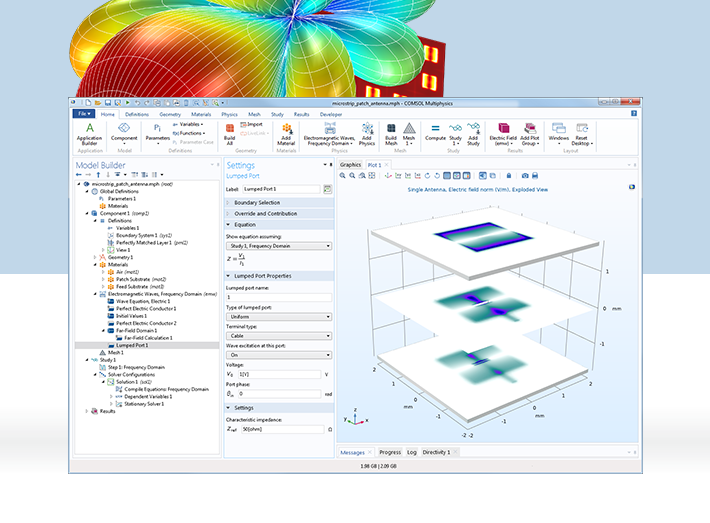 You are invited to join us at COMSOL Day Troy for a day of multiphysics modeling training, talks by invited speakers, and the opportunity to exchange ideas with other simulation specialists in the COMSOL community.
View the schedule for minicourse topics and presentation details. Register for free today.
Schedule
9:00am
Introduction to COMSOL Multiphysics® and the Model Builder
This introductory demonstration will show you the fundamental workflow of the COMSOL Multiphysics® modeling environment. We will cover all of the key modeling steps, including geometry creation, setting up physics, meshing, solving, and postprocessing.
10:00am
Invited Speakers
Feng (Steven) Qi, FZB Technology
Electrohydraulic Power Steering with Virtual Prototyping
Electrohydraulic power steering (EHPS) is a very fuel-efficient technology for steering gears. The hydraulic pump is powered by an electric motor, while the fluid interacts with the gears to add extra torque. The modeling of EHPS systems is therefore multiphysics by nature. We will present a COMSOL Multiphysics® model for our latest EHPS design. We separately modeled the major components in our EHPS system, including the gears, ECU, motor, pump, as well as the entire assembly. We will discuss the approaches we used for the thermal analysis of our EHPS design to ensure a safe operating temperature range. We will also present an electromagnetic model for the helical magnet and gear pump and its coupling to CFD and acoustics.
2:00pm
Parallel Training
Meshing Minicourse
Learn about the meshing techniques that are available to you in the COMSOL Multiphysics® software. We will introduce you to basic meshing concepts, such as how to tweak the meshing parameters for unstructured meshes. More advanced topics include working with swept meshes and creating mesh plots.
3:00pm
Parallel Training
Solvers Minicourse
Learn the fundamental numerical techniques and underlying algorithms related to linear and nonlinear multiphysics simulations. We will cover the difference between iterative and direct solvers as well as the different study types including stationary, transient, and eigenfrequency analysis.
Invited Speakers
Scott Fogler
University of Michigan in Ann Arbor
H. Scott Fogler is the Ame and Catherine Vennema Professor of Chemical Engineering and the Arthur F. Thurnau Professor at the University of Michigan in Ann Arbor and was the 2009 President of the American Institute of Chemical Engineers. He received his B.S. from the University of Illinois and his M.S. and Ph.D. from the University of Colorado. Prof. Fogler is well known for his work on the application of fundamental chemical reaction engineering principles to the petroleum industry. His group have published over 240 research articles, in an areas such as acidization of petroleum wells, upstream engineering gelation kinetics, wax deposition in subsea pipelines and asphaltene flocculation and deposition kinetics. Prof. Fogler is the author of the 12 books, including the Elements of Chemical Reaction Engineering, 5th Edition, and Essentials of Chemical Reaction Engineering, which are estimated to be used by 70-80% of all chemical engineering programs in the United States and is dominant also in the world-wide market. Prof. Fogler has received a number of distinguished awards at college, university, and national levels. Scott has also been the recipient of 13 named lectureships. Professor recently finished a 2-year assignment on the President Obama's commission to study and make a recommendation on the flow of diluted bitumen in the Keystone Pipeline.
Steven Qi
FZB Technology
Steven (Feng) Qi currently works as a program manager at FZB Technology. Steven is responsible for product development, testing, launch, and delivery, particularly of the steering system components. He is also the leading CAE analyst, specializing in CFD and thermal analysis. Steven graduated with an MS degree in mechanical engineering and PhD in materials science and engineering from the University of Michigan.
Register for COMSOL Day Detroit
This event has ended. Visit the event calendar to view upcoming events.