Modeling Electromagnetic Actuators with COMSOL Web Workshop
October 5, 2022
11:00 a.m.–12:00 p.m. EDT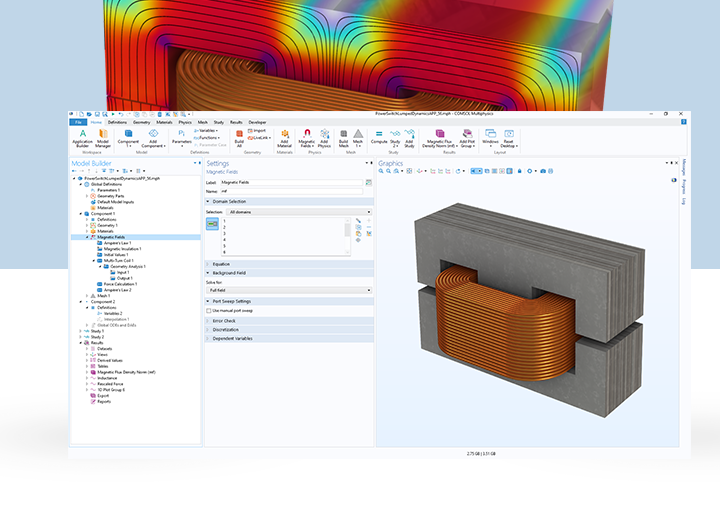 Electromagnetic actuators are electromechanical devices in which a plunger is moved due to the magnetic force developed by the current flowing in the actuator's coils. The dynamics of these devices are modeled according to Newtonian mechanics. In the COMSOL® software, this type of electrodynamics is modeled by coupling electromagnetics with a mathematics interface.
In this web workshop, we will dive into the specifics of modeling electromagnetic actuators in COMSOL®, including how to model:
Nonlinear magnetic materials and coils with the Magnetic Fields interface
Plunger motion with a moving mesh
Newtonian mechanics with the Global ODEs and DAEs interface
Register for Modeling Electromagnetic Actuators with COMSOL Web Workshop
October 5, 2022
11:00 a.m. - 12:00 p.m. EDT
To register for the event, please create a new account or log into your existing account. You will need a COMSOL Access account to attend Modeling Electromagnetic Actuators with COMSOL Web Workshop.
Webinar Details
This event will be held online.
Local Start Time:
October 5, 2022 | 11:00 a.m. EDT (UTC-04:00)
Speaker
Vignesh Gurusamy
Applications Engineer
Vignesh Gurusamy joined COMSOL in 2021 as an applications engineer specializing in low-frequency electromagnetics. He received his PhD in electrical engineering from the University of Texas at Dallas, where he worked on electrical motors and medium-frequency transformers.