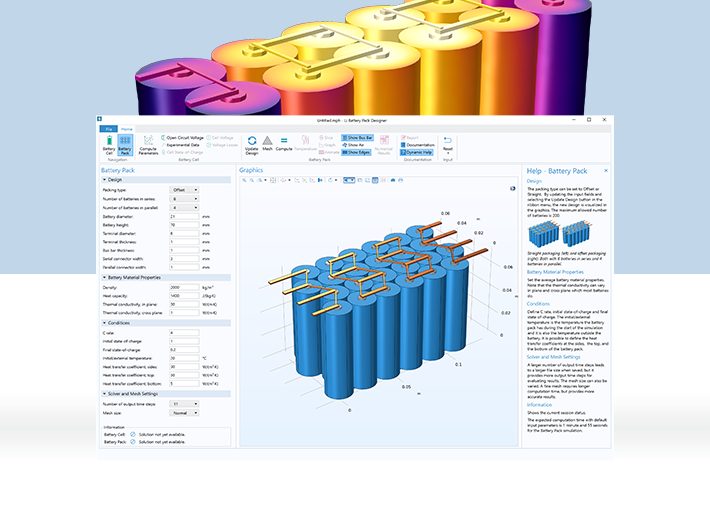 Lithium-ion (Li-ion) batteries are the preferred choice for electric and hybrid vehicles, energy storage systems, and consumer electronics. One of the top safety concerns with Li-ion batteries is thermal runaway within a cell as well its cascading effect throughout a whole battery pack. To predict thermal runaway, it is necessary to account for several different physical phenomena, including chemical reactions within the cell, heat transfer at the cell and pack levels, the structural design of the pack, and fluid flow in the battery pack's cooling system.
Tune into this upcoming workshop for an introduction to modeling thermal runaway in batteries using COMSOL Multiphysics®. You'll learn how multiphysics simulation can be used to accurately model battery cells and packs, predict thermal runaway, and design optimized thermal management systems for battery packs.
During this web workshop, we will discuss how to:
Perform thermal analysis of batteries and battery packs by coupling losses from high-fidelity and lumped models
Model different thermal runaway scenarios
Simulate thermal runaway within a battery cell
Simulate thermal runaway propagation in a pack
Compute crucial safety parameters, including the maximum temperature occurring during thermal runaway and the time to reach thermal runaway
Register for Thermal Runaway in Batteries Web Workshop
September 7, 2022
11:00 a.m. - 12:00 p.m. EDT
To register for the event, please create a new account or log into your existing account. You will need a COMSOL Access account to attend Thermal Runaway in Batteries Web Workshop.
Webinar Details
This event will be held online.
Local Start Time:
September 7, 2022 | 11:00 a.m. EDT (UTC-04:00)
Speaker
Niloofar Kamyab
Senior Applications Engineer
Niloofar Kamyab is a senior applications engineer at COMSOL with a focus on electrochemistry, including batteries and fuel cells. She received her PhD in chemical engineering from the University of South Carolina, where her research focused on the mathematical modeling of battery systems.