Showcasing Continuum Blue
Continuum Blue is one of our closest partners and brightest users. As consultants, they make their living by modeling and testing applications for their customers, and they have been growing quite fast lately. COMSOL Multiphysics is a vital tool in their consultancy work, as they take on real-world applications that can only be described with multiphysics.
I first came across Continuum Blue and their CEO, Mark Yeoman, when I was working on a COMSOL News story about them. The modeling was unbelievable and included two-phase, immiscible fluid flow coupled to polymerization. This was based on a paper they presented at a COMSOL Conference, which gives more of the technological background to this process.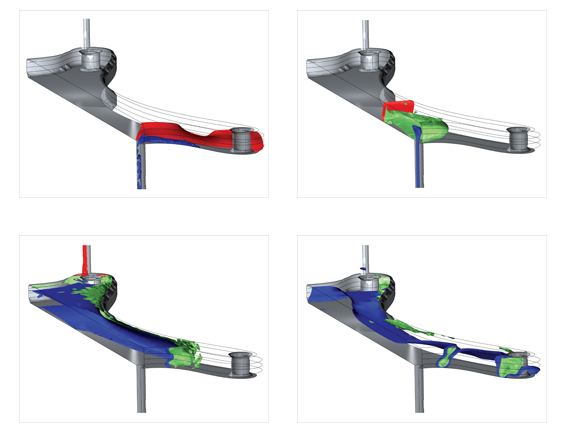 In the image here, the red isosurface indicates where the boundary between the polymer mixture and air occurs, the green isosurface indicates where the volume fraction between the two polymers is at 50%, while the blue isosurface is where the second polymer has a volume fraction of 100%.
The folks at Continuum Blue are not only experts in CFD, but they also model many other applications, such as in structural mechanics, in areas from biomedical engineering to oil and gas. I hope to see more of these types of models at future conferences.
---