RFIDs are Being Used Everywhere
Someone who saw my RFID model blog post from a few days back pointed me towards a site that talks just about RFIDs. On it, I discovered a lot of articles about using RFID in the biomedical industry. This was an application that I had never thought of before. I'd always associated RFIDs with security, tracking packages and the like.
Medical Design Briefs
Now part of my role at COMSOL is to provide material for us to use in marketing. Coming up is an ad for Medical Design Briefs, which should be a good fit. I've improved the image from the previous blog post, so that we can now actually see the small transmitting antenna that interacts with the much larger reader antennas.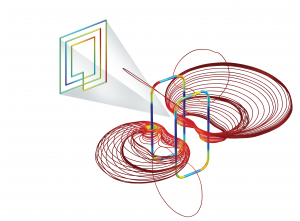 ---