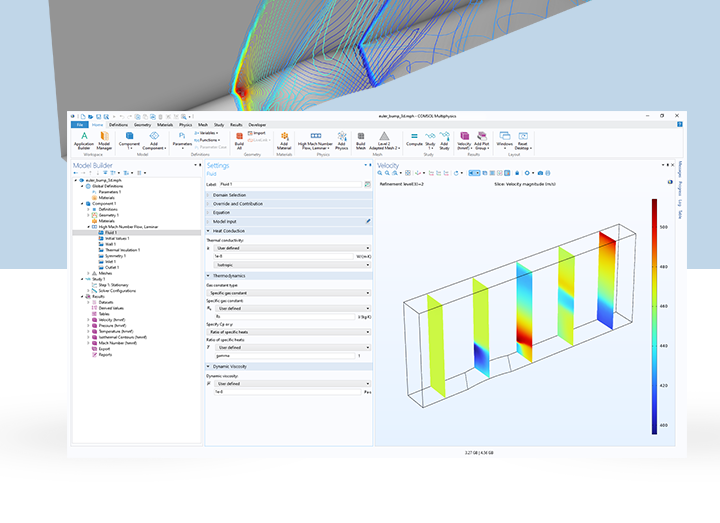 Compressible flows characterized by significant density changes play a prominent role in applications such as high-speed aerospace vehicles, combustion engines and burners, and gas pipelines, to name a few. These flows can range from subsonic to transonic to supersonic speeds. As the flow becomes highly compressible, conservation of mass, momentum, and energy must be solved in order to appropriately resolve features such as shocks, for example, that can significantly impact the performance of these applications.
Tune into this web workshop for an introduction to modeling compressible flows in the COMSOL® software using the CFD Module. The workshop will also include an overview of two physics interfaces available in COMSOL® to model applications involving compressible flows: the Nonisothermal Flow interface and the High Mach Number Flow interface.
Register for Modeling Compressible Flows Web Workshop
August 30, 2022
11:00 a.m. - 12:00 p.m. EDT
To register for the event, please create a new account or log into your existing account. You will need a COMSOL Access account to attend Modeling Compressible Flows Web Workshop.
Webinar Details
This event will be held online.
Local Start Time:
August 30, 2022 | 11:00 a.m. EDT (UTC-04:00)
Speaker
Andrzej Bielecki
Applications Engineer
Andrzej Bielecki is an applications engineer at COMSOL with a focus on CFD. He graduated from Worcester Polytechnic Institute with a bachelor's degree in mechanical engineering. Prior to joining COMSOL, he worked as an application engineer designing needle and track roller bearings for the aerospace industry.