COMSOL Certified Consultants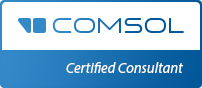 COMSOL Certified Consultants nutzen ihre umfangreiche Erfahrung mit COMSOL Multiphysics und den zugehörigen Produkten, um gebrauchsfertige Lösungen für eine Vielzahl von Modellierungsprojekten zu liefern. Sie erstellen startbereite Modelle und Berichte mit einer detaillierten Analyse der Simulationsergebnisse.
COMSOL designates certain persons or companies to be Certified Consultants based on that person or company's reported proficiency with using COMSOL's software products and based on standards that COMSOL sets and revises from time to time. COMSOL does not participate in any Certified Consultant's delivery of products or services. COMSOL has not made any determination that any particular Certified Consultant possesses the requisite skills or experience for your needs and encourages you to make inquiry of a Certified Consultant in order to make that determination for yourself.