COMSOL Certified Consultants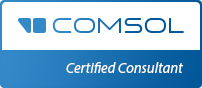 COMSOL Certified Consultants nutzen ihre umfangreiche Erfahrung mit COMSOL Multiphysics und den zugehörigen Produkten, um gebrauchsfertige Lösungen für eine Vielzahl von Modellierungsprojekten zu liefern. Sie erstellen startbereite Modelle und Berichte mit einer detaillierten Analyse der Simulationsergebnisse.
Click on the name of a certified consultant below to learn about the services they offer, or find certified consultants with a specific area of expertise by using the search tool.
COMSOL benennt bestimmte Personen oder Unternehmen als zertifizierte Berater, basierend auf den von dieser Person oder diesem Unternehmen ausgewiesenen Kenntnissen in der Verwendung der Softwareprodukte von COMSOL und basierend auf Standards, die COMSOL festlegt und von Zeit zu Zeit überarbeitet. COMSOL beteiligt sich nicht an der Leistungserbringung von Produkten oder Dienstleistungen durch einen zertifizierten Berater. COMSOL entscheidet nicht darüber, ob ein bestimmter Certified Consultant über die erforderlichen Fähigkeiten oder Erfahrungen für Ihre Bedürfnisse verfügt und ermutigt Sie daher, bei einem Certified Consultant nachzufragen, um diese Entscheidung für sich selbst zu treffen.