Fatigue Module
Zur spannungs- und dehnungsbasierten Ermüdungsanalysen im nieder- und hochzyklischen Bereich (LCF und HCF)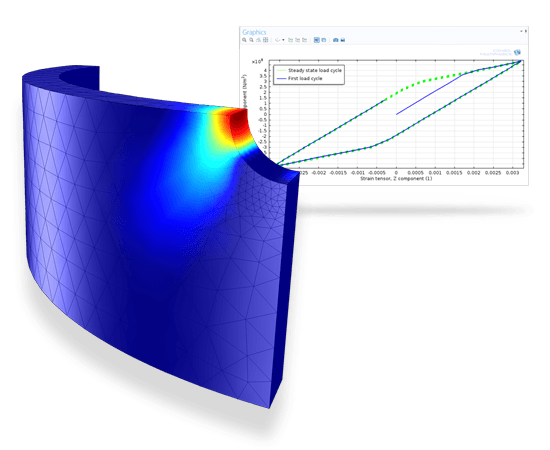 Niederzyklische Ermüdung durch plastische Verformung in der Nähe einer Bohrung. Abgebildet ist der Logarithmus der Lebensdauer in Abhängigkeit der Anzahl der Zyklen zusammen mit einer Spannungs-Dehnungs-Kurve für die ersten Lastzyklen.
Ermüdungsanalyse für viele verschiedene Strukturen und Anwendungen
Wenn Strukturen wiederholten Be- und Entlastungen ausgesetzt sind, können sie aufgrund von Materialermüdung bereits bei Lasten unter der statischen Lastgrenze versagen. Virtuelle Ermüdungsanalysen werden in der COMSOL Multiphysics-Umgebung mit dem Fatigue Module, ein Zusatzmodul des Structural Mechanics Module, ausgeführt. Mit den spannungs- und dehnungsbasierten Methoden mit kritischer Ebene können Sie die nieder- und hochzyklische Ermüdung auswerten. Wenn Sie mit variablen Lasten zu tun haben, können Sie aus dem Lastverlauf und der Ermüdungsgrenze eine kumulierte Schadensanalyse berechnen. Ein Ermüdungslastzyklus kann für Volumenkörper, Platten, Wandungen, mehrere Körper, Anwendungen mit thermischen Spannungen und Verformungen und sogar für piezoelektrische Geräte simuliert werden.
Spannungs- und dehnungsbasierte Modelle mit kritischer Ebene
Modelle mit kritischer Ebene suchen nach einer Ebene, die besonders anfällig für Rissbildung und Rissausbreitung und daher ein ermüdungskritischer Bereich ist. Diese Modelle sind im Fatigue Module sowohl für spannungs- als auch dehnungsbasierte Ansätze verfügbar. Im Bereich der hochzyklischen Ermüdung mit sehr geringer Plastizität werden in der Regel spannungsbasierte Modelle verwendet. Im Fatigue Module werden sie nach den Findley-, Normalspannungs- und Matake-Kriterien berechnet. Diese ermitteln die Ermüdungsausnutzung, die dann mit der Ermüdungsgrenze verglichen wird.
Dehnungsbasierte Modelle werten beim Definieren einer kritischen Ebene Dehnungen oder Kombinationen aus Spannung und Dehnung aus. Nachdem die kritische Ebene identifiziert wurde, wird die Anzahl der Zyklen bis zum Versagen prognostiziert. Das Fatigue Module enthält die Modelle Smith-Watson-Topper (SWT), Fatemi-Socie und Wang-Brown. Diese Modelle werden in der Regel für niederzyklische Ermüdung mit großen Dehnungen verwendet. Zur Verfügung stehen auch die Neuber-Regel und die Hoffmann-Seeger-Methode, mit denen Sie die Auswirkung der Plastizität in einer schnellen linear-elastischen Simulation näherungsweise berechnen können. Bei Verwendung des Nonlinear Structural Materials Module ist es außerdem möglich, einen vollständigen elastoplastischen Ermüdungszyklus zu berücksichtigen.
Weitere Bilder
Hochzyklische Ermüdungsanalyse für eine nichtproportionale Last mit der Methode der kritischen Ebene.
Die Verteilung der Spannungszyklen an einem bestimmten Punkt in einem Matrix-Histogramm, welche anhand des Rainflow-Zählalgorithmus berechnet wurde. Auf der horizontalen Achse sind die Spannungsmittel und auf der vertikalen Achse die Spannungsamplituden dargestellt.
Eine Probe mit mittigem Ausschnitt wird einer Zufallslast von 1.000 Lastereignissen ausgesetzt. Die Spannungsverteilung wird mit dem Rainflow-Zählalgorithmus berechnet, die Schätzung des Schadens erfolgt anhand der Palmgren-Miner-Regel für die lineare Schadensakkumulation.
Visualisieren der Ermüdungsberechnungen
Im Fatigue Module werden die Anzahl der Zyklen bis zum Versagen und die Ermüdungsausnutzung berechnet. In kumulativen Schadenssimulationen kann die Spannungsverteilung einer angewendeten Zufallslast zusammen mit der relativen Ermüdungsausnutzung angezeigt werden. Diese Simulation zeigt den Anteil einer bestimmten Ermüdungslast an der gesamten Ermüdungsausnutzung, was in diesem Fall als Schaden betrachtet wird. Die Spannungsverteilung wird als Funktion von Spannungsamplitude und Spannungsmittel dargestellt.
Kumulative Schadensanalyse
Zufallslasten verursachen bei einer Struktur eine Vielzahl von Spannungen unterschiedlicher Größenordnung. Die kumulative Schadensanalyse im Fatigue Module identifiziert nicht nur die Gesamtentwicklung im Spannungsverlauf, sondern berechnet auch den kumulierten Schaden aus jedem Lastereignis. Der Spannungsverlauf lässt sich anhand der Hauptspannung oder Von-Mises-Spannung bewerten. Ein Vorzeichen wird aus der Haupt- oder hydrostatische Spannung bestimmt. Der Lastverlauf wird dann mit dem Rainflow-Zählalgorithmus verarbeitet und der Schaden wird anhand der Palmgren-Miner-Regel für die lineare Schadensakkumulation berechnet. Der Effekt des thermischen Widerstands (R) fließt über die einschränkende Wöhlerkurve ein.
Wenn die Analyse mit Zufallslast viele Lastereignisse aufweist, nimmt die Simulation des Lastzyklus sehr viel Zeit in Anspruch. Dieser Zeitaufwand lässt sich erheblich reduzieren, wenn die nichtlinearen Effekte in der Simulation außer Betracht gelassen werden. In diesem Fall kann der Spannungszyklus mithilfe von Superposition beschrieben werden, die in der kumulativen Schadensanalyse zur Auswahl steht. Durch die Nutzung dieser Technik verkürzt sich nicht nur die Berechnungszeit. Auch die Größe des Modells, das für die Ermüdungsbewertung gespeichert werden muss, wird erheblich reduziert.
Product Features
Critical plane methods
Cumulative damage
Stress-based fatigue
Strain-based fatigue
High-cycle fatigue
Low-cycle fatigue
Findley method
Matake method
Normal-stress method
Fatemi-Socie method
Smith-Watson-Topper (SWT) method
Wang-Brown method
Morrow mean-stress correction
Rainflow counting
Palmgren-Miner
Calculates approximative fatigue calculations elastoplastic materials
Calculates approximative fatigue calculations elastoplastic materials when combined with the Nonlinear Structural Materials or Geomechanics Modules
Calculates fatigue on applications defined using the following physics interfaces:
Solid Mechanics
Shell and Plate
Multibody Dynamics
Thermal Stress and Thermal Expansion
Joule Heating
Piezoelectric Devices
Modeling Mechanical Applications in COMSOL Multiphysics
COMSOL Multiphysics is the ideal solution for exploring the interaction between structural mechanics and other physics, such as fluid-structure interaction (FSI), acoustics and electromechanics. This is largely because COMSOL uses the industry standard finite element method, expanded for present day multiphysics requirements. Watch the video to learn more about modeling mechanical applications.
Fatigue Module
Structural and Fatigue Analyses of a Shaft with a Fillet
This benchmark model shows how to perform a high-cycle fatigue analysis for non-proportional loading using critical plane methods.
Low-Cycle Fatigue Analysis of Cylinder with a Hole
A load carrying component of a structure is subjected to multi-axial cyclic loading during which localized yielding of the material occurs. In this model you perform a low cycle fatigue analysis of the part based on the Smith-Watson-Topper (SWT) model. Due to localized yielding, you can use two methods to obtain the stress and strain distributions ...
Random Load Fatigue in a Frame with a Cutout
A frame with a central cutout is subjected to a random load consisting of 1000 load events. The external load, recorded using three strain gauges, is simulated using superposition of three unit loads. The stress state around the cutout is obtained with the Rainflow cycle counting algorithm. The damage is estimated using the Palmgren-Miner linear ...
Structural Analysis of a Car Wheel Rim
A fatigue analysis is performed on a wheel rim. The Findley fatigue criterion is examined. The submodeling technique is utilized performed a detailed study on the critical part of a spike. At first a study of the full model is made. The critical part is identified and a submodel is reanalyzed. The road load, which rotates around the wheel, is ...
Cylindrical Test Specimen
A benchmark model for the fatigue module. A cylindrical test is subjected to normal and shear load scenario. Three stress based models: Findley, Matake, Normal stress, are compared to analytical values and to each other. The non-smooth behavior of the Matake model is captured and discussed.
Notch Approximation to Low Cycle Fatigue Analyis of Cylinder with a Hole
A load carrying component of a structure is subjected to multi-axial cyclic loading during which localized yielding of the material occurs. In this model you perform a low cycle fatigue analysis of the part based on the Smith-Watson-Topper (SWT) model. Due to localized yielding, you can use two methods to obtain the stress and strain ...
Thermal Fatigue of a Surface Mount Resistor
A surface mount resistor is subjected to thermal cycling. The difference in the thermal expansion of different materials will introduce stresses in the structure. The solder which connects the resistor with the printed circuit board is seen as the weakest link in the assembly. It responds nonlinearly to changes in both temperature and time. In ...
Submodeling of Thermal Fatigue in a Ball Grid Array
In a cooling system, a microelectronic component has been identified as the critical link. Since the power is repeatedly switched on and off, the component is subjected to thermal cycling. As a results a crack grows through a solder joint and disconnects the chip from the printed circuit board so that the component loses its operational ...
Cycle Counting in Fatigue Analysis - Benchmark
A benchmark model of the Rainflow counting algorithm compares results between ASTM and COMSOL fatigue module using a flat tensile test specimen. An extension is made for the cumulative damage calculation following the Palmgren-Miner model and results are compared with analytical expressions.
Structural and Fatigue Analyses of a Shaft with a Fillet
Low-Cycle Fatigue Analysis of Cylinder with a Hole
Random Load Fatigue in a Frame with a Cutout
Structural Analysis of a Car Wheel Rim
Cylindrical Test Specimen
Notch Approximation to Low Cycle Fatigue Analyis of Cylinder with a Hole
Thermal Fatigue of a Surface Mount Resistor
Submodeling of Thermal Fatigue in a Ball Grid Array
Cycle Counting in Fatigue Analysis - Benchmark