Structural Mechanics Module
Structural Mechanics Module
Strukturmechanische Analysen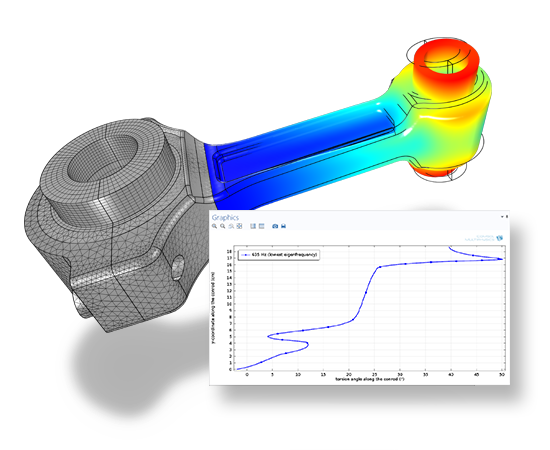 Eigenfrequenzanalyse einer Pleuelstange. Die Abbildung zeigt den Torsionswinkel entlang der Pleuelstange bei niedrigster Eigenfrequenz.
Statische und dynamische (Zeit- oder Frequenzabhängig) strukturmechanische Analysen
Das Structural Mechanics Module ist speziell für die Analyse mechanischer Strukturen ausgelegt, auf die statische oder dynamische Lasten einwirken. Dieses Modul lässt sich für eine Vielzahl von Analysearten verwenden. Dazu zählen stationäre, zeitabhängige, parametrische und quasistatische Analysen sowie Eigenfrequenz-/Modalanalysen, Frequenzbereichs-, Beul- und Vorspannungsanalysen.
Zusatzmodule erweitern die strukturmechanischen Analysenfähigkeiten
Das Structural Mechanics Module enthält Interfaces für Analysen in 2D-, axialsymmetrischen und 3D-Koordinatensystemen für Festkörper, Schalen (3D), Platten (2D), Stäbe (2D, 3D), Membranen (2D axialsymmetrisch, 3D) und Balken (2D, 3D). Diese Interfaces ermöglichen Analysen großer Deformation mit geometrischer Nichtlinearität, mechanischem Kontakt, thermischer Dehnung sowie piezoelektrischer Materialien und der Fluid-Struktur-Wechselwirkung (Fluid-Structure Interaction, FSI). Für die Analyse nichtlinearer Materialien gibt es zwei Zusatzprodukte - das Nonlinear Structural Materials Module und das Geomechanics Module. Zur Bewertung der Lebensdauer können Sie das Zusatzprodukt Fatigue Module nutzen. Soll die Dynamik von flexiblen Körpern und Starrkörpern modelliert werden, ist das Zusatzprodukt Multibody Dynamics Module zu empfehlen. Strukturmechanische Analysen lassen sich durch Kombination des Structural Mechanics Module und COMSOL Multiphysics sowie anderen anwendungsspezifischen Modulen koppeln, um eine Vielzahl von multiphysikalischen Phänomenen abzubilden (z. B. Interaktion mechanischer Strukturen mit elektromagnetischen Feldern, Fluidströmung oder chemischen Reaktionen).
Weitere Bilder
Materialmodelle
Das Structural Mechanics Module beinhalten grundlegende Materialmodelle wie z.B. linear elastische und viskoelastische Materialmodelle sowie orthotrope Materialien und Materialien mit Dämpfungseigenschaften. Sie können durch das Hinzufügen des Nonlinear Structural Materials Module und des Geomechanics Module erweitert werden. In dieser Konstellation können Sie große inelastische Dehnungen, hyperelastische Materialien, Plastizität, Kriechen, Viskoplastizität, Steine, Beton sowie auch Böden analysieren. Die große Flexibilität bei der Eingabe von benutzerdefinierten Materialien ist den benutzerfreundlichen Schnittstellen von COMSOL zu verdanken, die ein problemloses Eingeben von Gleichungen erlauben. Die einfache und direkte Eingabe der Zustandsgleichungen in der Benutzeroberfläche ersetzt die aufwändige Programmierung von Subroutinen. Dabei können Sie mathematische Ausdrücke mit Feldvariablen, Spannungs- und Dehnungsinvarianten und anderen abgeleiteten Größen angeben. Der Elastizitäts- Modul beispielsweise kann anstatt als Konstante auch als Funktion einer beliebigen Feldvariablen und deren Ableitungen angegeben werden. Materialeigenschafen können in Raum und Zeit variieren oder mittels komplexer Wertausdrücke beschrieben werden.
Lasten, Zwangsbedingungen und High-Performance Modellierungstools
Es steht eine Vielzahl von Lasten und Zwangsbedingungen zur Verfügung. Dazu zählen Gesamtkraft, Drucklasten, mitlaufende Lasten, Federn und Dämpfer, zusätzliche Masse, vorgeschriebene Verschiebung, Geschwindigkeit sowie Beschleunigung. Zum Modellieren dünner elastischer Schichten eignet sich die spezielle Thin Elastic Layer-Bedingung. Spezielle Gebiets- und Randbedingungen ermöglichen die Kombination starrer und flexibler Strukturen. Das Multibody Dynamics Module bietet weitere Funktionen für diesen Zweck. Modelle kleiner Strukturen, die in eine Trägerschicht elastischen Materials eingebettet sind (oder sich auf deren Oberfläche befinden), profitieren von einer Infinite-Elemente-Gebietsbedingung. Sie erlaubt die Trägerschicht hocheffizient als Ausschnitt zu modellieren, wobei das langsame Abklingen der Spannung in der Schicht ohne Genauigkeitsverlust abgebildet wird.
Festkörpermechanik
Die Strukturmechanik- Interfaces des Structural Mechanics Module stellen die Größen und Funktionen für Festigkeitsnachweise und allgemeine lineare und nichtlineare Festkörpermechanik zur Verfügung. Voreingestellt liegt der Berechnung ein linear elastisches Materialmodell zugrunde. Dieses kann leicht durch hyperelastische Materialmodelle (für die das Nonlinear Structural Materials Module erforderlich ist) und auch linear viskoelastische Materialmodelle ersetzt werden. Außerdem kann das elastische Materialmodell mit thermischer Ausdehnung, Dämpfung sowie Vorspannung und Vordehnung erweitert werden. Allgemeine inelastische Dehnungen können ganz einfach als zusätzliche Dehnungskomponenten definiert werden. Diese können sogar als Funktionen aller anderen physikalischen Feldgrößen von Elektromagnetik bis Fluidströmung angegeben werden. Elastische Materialien können mit isotropen, orthotropen oder vollständig anisotropen Eigenschaften angegeben werden. Jeder Materialkoeffizient kann als Konstante, Variable, Look-up Tabelle sowie als nichtlinearer Ausdruck beschrieben werden, der raum- und zeitabhängig variieren kann. COMSOL Multiphysics kann alle Ausdrücke interpretieren. Daher können Sie auch sehr anspruchsvolle Modellierungsaufgaben direkt in der COMSOL Desktop®-Umgebung umsetzen, ohne Erweiterungen programmieren zu müssen.
Große Deformation und mechanischer Kontakt
Das Structural Mechanics Module bietet Ihnen die Möglichkeit, große Deformationen mit geometrischer Nichtlinearität und mitlaufenden Lasten zu modellieren. Die Lasten können verteilt sein und auch von anderen physikalischen Größen wie elektromagnetische Kräfte und Strömungskräfte abhängen. Natürlich sind auch Simulationen mit mechanischem Kontakt verfügbar und multiphysik-fähig. Sie können zum Beispiel die Wärmestromdichte (mittels Heat Transfer Module) oder elektrische Ströme (mittels AC/DC Module) über Kontaktflächen hinweg berücksichtigen. Hier stehen mechanische Kontaktgrößen zur Verfügung, z.B. um Wärme- und Stromübertragung abhängig vom Kontaktdruck zu formulieren.

Schalen, Platten und Membranen
Für die mechanische Analyse dünnwandiger Strukturen sind Schalen auf Basis der Mindlin-Reissner-Theorie verfügbar. Dabei werden auch transversale Schubdeformationen berücksichtigt, sodass Sie auch dicke Schalen simulieren können. Außerdem kann die Referenzfläche der Schale versetzt zur Mittelfläche liegen. Das Schalen-Interface enthält noch weitere Funktionen wie Dämpfung, thermische Ausdehnung sowie Anfangsspannungen und -dehnungen. Die verfügbaren vorkonfigurierten Studien entsprechen den Studien des Festkörpermechanik-Interfaces. Das Platte-Interface ist dem Schalen-Interface ähnlich, arbeitet aber nur in einer Ebene und berücksichtigt Lasten in der Regel nur senkrecht zu ihr.
Mit dem Membran-Interface werden gekrümmte Flächen im 3D Raum modelliert, die sich in Normal- und Tangentialrichtungen verformen können, aber einen ebenen Spannungszustand aufweisen. Der Unterschied zwischen einer Schale und einer Membran liegt darin, dass die Membran keinerlei Biegesteifigkeit besitzt. Dieses Interface eignet sich zum Modellieren sehr dünner Strukturen wie z. B. Dünnfilme oder Gewebe.
Vibrationen, Akustik und elastische Wellen
Es stehen eine Reihe von Funktionen für Vibrationsanalysen zur Verfügung. Sie können optional mit dem Acoustics Module mit Akustik gekoppelt werden. Wenn Sie so das Structural Mechanics Module und das Acoustics Module miteinander kombinieren, haben Sie Zugriff auf ein spezialisiertes Tool für Akustik-Schalen-Wechselwirkung. Das Acoustics Module verfügt außerdem über zusätzliche Multiphysikinterfaces für Festkörper-Akustik- und Piezo-Akustik-Wechselwirkungen. Für elastische Wellen, die sich in einem Material ausbreiten, stellt das Structural Mechanics Module schwach reflektierende Randbedingungen und perfekt absorbierende Schichten bereit, auf denen eingehende elastische Wellen absorbiert werden. Diese Funktionen erlaubt Ihnen die einfache Simulation von elastischen Wellen, die sich von einer vibrierenden Struktur in relativ großen oder infiniten Medien ausbreiten.
Bewertung des Ermüdungsverhaltens
Wenn Sie Ihre strukturmechanischen Analysen um das Fatigue Module erweitern, können Sie strukturmechanische Berechnungen zur Materialermüdung vornehmen. Zur Verfügung steht sowohl die HCF-Methode (High-cycle fatigue) als auch die LCF-Methode (Low-cycle fatigue). Das Fatigue Module ist eng mit dem Structural Mechanics Module verknüpft, sodass Sie sowohl strukturmechanische und Lebensdauerberechnungen direkt in der COMSOL Desktop®-Umgebung durchführen können. Das Fatigue Module kann zusammen mit den Festkörpermechanik-, Schalen-, Platte- und Mehrkörperdynamik-Interfaces und mit den Physikinterfaces für thermische Ausdehnung, Joulsche Erwärmung mit thermischer Ausdehnung und piezoelektrische Bauteile verwendet werden.
Balken und Stäbe
Die Balkenelemente des Structural Mechanics Modules sind zur Analyse schlanker Strukturen gedacht, die vollständig über ihre Querschnittseigenschaften wie z. B. Flächeninhalt, Trägheitsmomente beschrieben werden. Sie werden zur Simulation von Tragwerken (planar oder 3D) verwendet, oder für die Analyse von Verstärkungen mit Festkörper oder Schalen gekoppelt betrachtet. Das Balken-Interface enthält eine Bibliothek von gängigen Querschnitten wie Rechteck, Box, Zirkulär, Rohr, sowie H-, U- und T-Profile. Weiteren Funktionen beinhalten Dämpfung, thermische Ausdehnung sowie Anfangsspannungen und -dehnungen. Das 2D Balkenquerschnitt-Interface wertet die Eigenschaften beliebiger Querschnitte aus, die anschließend als benutzerdefiniertes Balkenelement verwendet werden können.
Das Fachwerk-Interface dient zum Modellieren schlanker Strukturen, die nur axiale Kräfte aufnehmen können. Es kann sowohl kleine als auch große Dehnungen berücksichtigen. Einsatzgebiete sind z.B. Berechnungen von Fachwerken mit geraden Kanten oder Kabeln, die unter Schwerkrafteinfluss durchhängen. Weitere Funktionen sind Dämpfung, thermische Ausdehnung sowie Anfangsspannungen und -dehnungen.
Thermische Spannung
Das Structural Mechanics Module kann mit COMSOL Multiphysics und anderen Zusatzmodulen zur Modellierung vieler unterschiedlicher multiphysikalischer Anwendungen kombiniert werden. Außerdem enthält das Modul schon selbst eine Reihe vordefinierter Multiphysikinterfaces. Das Thermische Spannung-Interface zum Beispiel ist mit dem Festkörpermechanik- Interface vergleichbar. Es ist jedoch um ein thermisches, linear-elastisches Materialmodell erweitert worden und kann in Verbindung mit den verschiedenen Wärmetransport-Interfaces zum Koppeln von Temperaturfeld und thermischer Ausdehnung verwendet werden. Ein spezielles Multiphysikinterface für Joulsche Erwärmung und thermische Ausdehnung berechnet den elektrischen Stromfluss durch einen Leiter zusammen mit der durch ohmsche Verluste erzeugten Erwärmung und deren thermischer Ausdehnung.
Weitere Mechanik-Funktionen in anderen Modulen
Das MEMS Module stellt geeignete Tools für strukturmechanische Simulationen mikromechanischer Systeme bereit. Dieses Modul enthält Physikinterfaces für Piezoresistivität, elektromechanische Auslenkung und thermoelastische Vibrationen sowie fortschrittliche Modellierwerkzeuge zum Auslegung piezoelektrischer Bauteile. Aus mechanischer Sicht ist das Acoustics Module zuständig für Berechnungen von strukturmechanischen Vibrationen in Verbindung mit akustischen Druckwellen und elastischen und poroelastischen Wellen. Das Subsurface Flow Module erweitert die Strukturmechanik- Interfaces um Poroelastizität und Strömung in porösen Medien.
CAD und Optimierung
Das CAD Import Module bietet Ihnen die Möglichkeit, branchenübliche CAD-Standardformate zu importieren. Mit den ebenfalls verfügbaren Geometriebereinigungs- und Reparaturoptionen können Sie Ihr importiertes CAD-Modell optimal für die Vernetzung und Analyse vorbereiten. Das CAD Import Module basiert auf dem bekannten Parasolid®-Geometrie-Kern und erlaubt anspruchsvolle Geometrieoperationen, die über die Fähigkeiten des nativen COMSOL-Kerns hinausgehen. Für die mechanische Simulation elektronischer Strukturen ist über das ECAD Import Module das Einlesen elektronischer Layouts möglich. Bei Analyse einer mechanischen Komponente oder einer Baugruppe ist es äußerst wichtig, die Originalparametrisierung des CAD-Modells zu erhalten. So können Parameterstudien und Optimierungen ohne Rekonstruktion von Geometrieparametern durchgeführt werden. Diese Möglichkeit ergibt sich durch folgende LiveLink™-Produkte für CAD, die für führende CAD-Systeme verfügbar sind: SolidWorks®, SpaceClaim®, Inventor®, AutoCAD®, PTC® Creo Parametric®, Pro/ENGINEER® und Solid Edge®. Diese Produkte bieten synchrone Aktualisierung der Geometrieparameter im CAD-System und in COMSOL und ermöglichen Parametervariationen und Optimierung vieler unterschiedlicher Modellparameter. Einbeziehung des Optimization Module erlaubt die automatische Optimierung von Geometrieabmessungen, Lasten oder Materialeigenschaften.
Piezoelektrische Bauteile
Das Piezoelektrische Bauteile-Interface vereint die COMSOL-Funktionalität aus Festkörpermechanik und Elektrostatik in einem voll gekoppelten Tool für die Modellierung piezoelektrischer Materialien. Die piezoelektrischen Materialeigenschaften können in Spannungs-Ladungs- oder in Deformations-Ladungs-Form angegeben werden und voll gekoppelt frequenz- oder zeitabhängig analysiert werden oder die Eigenmoden ermittelt werden. Über dieses Physikinterface können Sie auf alle Funktionen der Festkörpermechanik und Elektrostatik zugreifen. Auf diese Weise können z. B. angrenzende linear elastische Festkörper, Lufträume und dielektrische Schichten modelliert werden.
Fluid-Struktur-Wechselwirkung (Fluid-Structure Interaction, FSI)
Das Fluid-Struktur-Wechselwirkung (FSI) Multiphysikinterface behandelt die Wechselwirkung zwischen Fluidströmungen und Festkörpermechanik. Dabei modellieren das Festkörpermechanik- und das Laminare Strömung- Interface jeweils Festkörper oder Fluid. Die FSI-Kopplungen verbinden die Grenzflächen zwischen Fluid und Festkörper. Sie beinhalten sowohl den Fluiddruck und die viskosen Kräfte als auch die Impulsübertragung vom Festkörper zum Fluid, betrachten also bidirektionales FSI. Die Fluid-Struktur-Wechselwirkung wird numerisch mit der Arbitrary Lagrangian-Eulerian (ALE)-Methode umgesetzt.
Structural Mechanics Module
Product Features
Acoustic-structure interaction 1
Beams
Biomechanics
Buckling and postbuckling
Contact analysis
Fatigue evaluation 2
Fluid-structure interaction (FSI)
Geometric nonlinearity
Large deformation
Lubrication and elastohydrodynamics 3
Membranes
Modal analysis
Multibody dynamics 4
Nonlinear materials 5
Piezoelectric devices
Poroelasticity 6
Prestressed structures
Rotordynamics
Shells
Solids
Stress-optical effects
Structural contact and friction
Structural optimization 7
Structural vibrations
Thermal stress
Trusses
---
1Together with the Acoustics Module
2Together with the Fatigue Module
3Together with the CFD Module
4Together with the Multibody Dynamics Module
5Together with the Nonlinear Structural Materials Module and the Geomechanics Module
6Together with the Subsurface Flow Module
7Together with the Optimization Module
Modeling Mechanical Applications in COMSOL Multiphysics
COMSOL Multiphysics is the ideal solution for exploring the interaction between structural mechanics and other physics, such as fluid-structure interaction (FSI), acoustics and electromechanics. This is largely because COMSOL uses the industry standard finite element method, expanded for present day multiphysics requirements. Watch the video to learn more about modeling mechanical applications.
Structural Mechanics Module
Sonar Dome Vibration Analysis
Francesca Magionesi
INSEAN
Italy
There has been a recent move towards utilizing bulbous bows on ships to house different types of sonar systems, but it is not definite how much structural vibration might interfere with the functioning of a transducer array inside the sonar dome. INSEAN, the National Institute for Studies and Experiments of Naval Architecture in Italy, needed a ...
Analysis of Subsea Umbilicals and Cables
Tim Poole, JDR Cables, Cambridgeshire, UK
and
Mark Yeoman, Continuum Blue, Hengoed, UK
JDR Cables designs-to-spec and manufactures subsea umbilical systems of cables and reelers for the oil and gas and renewable energy industries. In these designs, the harsh environments of deep water pressure, wind and waves, as well as the rough ocean floor must all be considered, along with the forces acting on cables from being pulled and ...
Simulation-Based Design of New Implantable Hearing Device
Patrik Kennes
Cochlear Technology Centre, Mechelen, Belgium


Cochlear Technology Centre Europe (CTCE) develops new technology for hearing implants. Their current work is with a new type of hearing implant, a Direct Acoustic Cochlear Implant called CodacsTM. This product imposes structural, pressure waves directly to the cochlea, stimulating it this way, as opposed to amplifying sound. Using COMSOL ...
Multiphysics Analysis of CO2 Foil Thrust Bearing Characteristics
Treevor Munroe
Knolls Atomic Power Laboratory, Niskayuna, NY

Knolls Atomic Power Laboratory (KAPL) is a research and development facility supporting the United States Naval Nuclear Propulsion Program. KAPL recently collaborated with Bettis Atomic Power Laboratory to test a supercritical carbon dioxide (S-CO2) Brayton power cycle system. The system was designed to operate at high speed and high gas ...
Simulation-Based Engineering Fosters Innovation and Invention
Ozgur Yildirim and Zihong Guo
Intellectual Ventures
Bellevue, WA
Simulation-based engineering is the key to shortening time to market for innovations. Intellectual Ventures, in Bellevue, WA, is reaping the benefits of using COMSOL Multiphysics to accelerate their workflow from design study to prototype, and then on to their customers as inventions through various partnerships and licensing programs. Projects ...
Pushing the Limits of Chip Density
Derek Bassett and Michael Carcasi
Tokyo Electron America
Austin, TX
Chip manufacturers have been adhering to Moore's law, a law stating that the number of transistors that can be economically placed on an integrated circuit doubles every year, since 1965. As the number of transistors increases, however, the process of manufacturing integrated circuit, called photolithography, becomes more difficult. Each device ...
Sonar Dome Vibration Analysis
Analysis of Subsea Umbilicals and Cables
Simulation-Based Design of New Implantable Hearing Device
Multiphysics Analysis of CO2 Foil Thrust Bearing Characteristics
Simulation-Based Engineering Fosters Innovation and Invention
Pushing the Limits of Chip Density
Structural Mechanics Module
Hyperelastic Seal
In this model you study the force-deflection relation of a car door seal made from a soft rubber material. The model uses a hyperelastic material model together with formulations that can account for the large deformations and contact conditions.
Composite Piezoelectric Transducer
This example shows how to set up a piezoelectric transducer problem following the work of Y. Kagawa and T. Yamabuchi. The composite piezoelectric ultrasonic transducer has a cylindrical geometry that consists of a piezoceramic layer, two aluminum layers, and two adhesive layers. The system applies an AC potential on the electrode surfaces of both ...
Peristaltic Pump
In a peristaltic pump, rotating rollers squeeze a flexible tube. As the rollers move along the tube, the fluid in the tube follows the motion. The main advantage of the peristaltic pump is that no seals, valves or other internal parts ever touch the fluid. Due to their cleanliness, peristaltic pumps have found many applications in the ...
Fluid-Structure Interaction in a Network of Blood Vessels
This model refers to a portion of the vascular system of a young child - the upper part of the aorta artery. The blood vessels are embedded in a biological tissue (the cardiac muscle) and, during the flow of blood, pressure is applied to the internal surfaces producing deformation of the vessel walls. The complete analysis consists of two ...
Piezoelectric Shear-Actuated Beam
The model performs a static analysis on a piezoelectric actuator based on the movement of a cantilever beam, using the Piezoelectric Devices predefined multiphysics interface. Inspired by work done by V. Piefort and A. Benjeddou, it models a sandwich beam using the shear mode of the piezoelectric material to deflect the tip.
Thickness Shear Mode Quartz Oscillator
AT cut quartz crystals are widely employed in a range of applications, from oscillators to microbalances. One of the important properties of the AT cut is that the resonant frequency of the crystal is temperature independent to first order. This is desirable in both mass sensing and timing applications. AT cut crystals vibrate in the thickness ...
Thermal Stresses in a Layered Plate
The thermal stress in a layered plate is studied in this example. A plate consisting of two layers, a coating and a substrate layer is stress and strain free at 800 degrees C. The temperature of the plate is reduced to 150 degrees C and thermal stresses are induced. A third layer, the carrier layer, is added and the thermal stresses in the coating ...
Heating Circuit
Small heating circuits find use in many applications. For example, in manufacturing processes they heat up reactive fluids. The device used consists of an electrically resistive layer deposited on a glass plate. The layer causes Joule heating when a voltage is applied to the circuit. The layer's properties determine the amount of heat ...
Snap Hook
This model simulates the insertion of a snap hook in its groove. Fasteners like this are common in the automotive industry, for example, in the control panel of a car. In this case it is important to know the force that must be applied in order to place the hook in the slot but also the force needed to remove it. From a numerical point of view, ...
SAW Gas Sensor
A surface acoustic wave (SAW) is an acoustic wave propagating along the surface of a solid material. Its amplitude decays rapidly, often exponentially, through the depth of the material. SAWs are utilized in many kinds of electronic components, including filters, oscillators, and sensors. SAW devices typically apply electrodes to a ...
Hyperelastic Seal
Composite Piezoelectric Transducer
Peristaltic Pump
Fluid-Structure Interaction in a Network of Blood Vessels
Piezoelectric Shear-Actuated Beam
Thickness Shear Mode Quartz Oscillator
Thermal Stresses in a Layered Plate
Heating Circuit
Snap Hook
SAW Gas Sensor