Optimization Module
Optimieren und Verbessern von Konstruktionen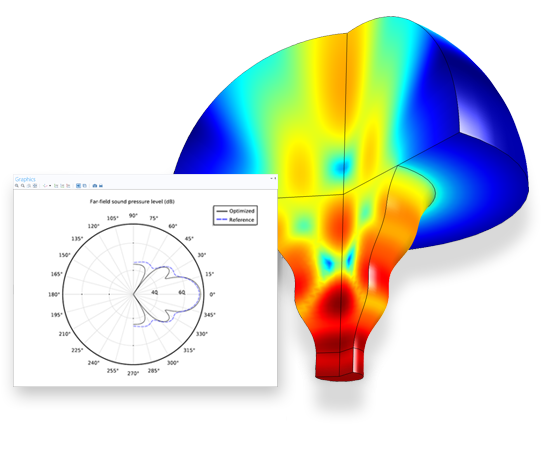 Das Horn hatte ursprünglich die Form eines axialsymmetrischen Kegels mit einer geraden Begrenzung. Es wurde im Hinblick auf den Schalldruckpegel im Fernfeld optimiert.
Optimieren des COMSOL Multiphysics-Modells
Das Optimization Module ist ein Zusatzpaket, das in Verbindung mit jedem anderen COMSOL Multiphysics-Produkt Verwendung findet. Nach der Erstellung eines COMSOL Multiphysics-Modells und Simulation des Prozesses kann eine Verbesserung der Konstruktion erwünscht sein. Hierfür sind vier Schritte erforderlich. Zuerst muss die Zielfunktion, ein Bewertungsfaktor, der das System beschreibt, definiert werden. Anschließend erfolgt die Bestimmung einer Reihe von Konstruktionsvariablen. Dies sind die zu verändernden Modellparameter. Dann werden verschiedene Zwangsbedingungen (Grenzwerte für die Konstruktionsvariablen) oder Betriebsbedingungen, die einzuhalten sind, festgelegt. Die Anwendung des Optimization Module, als letzter dieser Arbeitsschritte, berechnet eine mögliche Verbesserung der Konstruktion durch Änderung der Konstruktionsvariablen unter Einhaltung der Zwangsbedingungen. Das Optimization Module ist ein allgemeines Interface zum Definieren von Zielfunktionen und Konstruktionsvariablen sowie zum Festlegen von Zwangsbedingungen. Alle Modelleingaben (geometrische Bemaßungen, Bauteilformen, Materialeigenschaften oder Materialverteilungen) können als Konstruktionsvariable behandelt werden. Jede Modellausgabe kann zur Definition der Zielfunktion dienen. Dieses Modul ist zusammen mit der gesamten COMSOL Multiphysics-Produktfamilie einsetzbar. Es kann außerdem mit den LiveLink™-Zusatzprodukten kombiniert werden, um beispielsweise eine geometrische Bemaßung im CAD-Programm eines Drittanbieters zu optimieren.
Weitere Bilder
Ableitungsfreie und gradientenbasierte Algorithmen
Das Optimization Module arbeitet mit zwei unterschiedlichen Optimierungsverfahren: das ableitungsfreie und das gradientenbasierte Optimierungsverfahren. Das ableitungsfreie Optimierungsverfahren ist hilfreich, wenn Zielfunktionen und Zwangsbedingungen möglicherweise nicht kontinuierlich sind und keine analytischen Ableitungen haben. Beispiel: Die Spannungsspitzen in einem Teil sollen durch Bemaßungsänderungen auf ein Minimum beschränkt werden. Bei der Änderung von Bemaßungen können sich jedoch die Spannungsspitzen von einem Punkt zu einem anderen verschieben. Eine solche Zielfunktion ist nicht analytisch und setzt einen ableitungsfreien Ansatz voraus. Im Optimization Module stehen für diesen Bereich drei unterschiedliche Verfahren zur Verfügung: Nelder-Mead, Koordinatensuche und Monte-Carlo.
Das Optimization Module berechnet einen angenäherten Gradienten, um durch optimierte Konstruktionsvariablen die Konstruktion zu verbessern. Mit diesem Ansatz kann bei Bedarf auch die Gesamtmasse des Teils minimiert werden. Die Masse des Teils steht normalerweise im direkten Zusammenhang mit seinen Abmessungen. Infolgedessen kann ein gradientenbasierter Ansatz verwendet werden. Mithilfe des Adjungiertenverfahrens des SNOPT-Optimierers (entwickelt von Philip E. Gill, University of California, San Diego/USA und Walter Murray und Michael A. Saunders, Stanford University) berechnet das Optimization Module zur Optimierung der Konstruktionsvariablen die genaue analytische Ableitung der Ziel- und Zwangsbedingungsfunktionen. Der Levenberg-Marquardt-Solver ist der zweite gradientenbasierte Algorithmus. Dieser Solver kommt - in der Regel bei Parameterschätzungs- und Kurvenanpassungsanwendungen - zum Einsatz, wenn für die Zielfunktion die Methode der kleinsten Quadrate verwendet wird.
Die gradientenbasierte Methode hat den Vorteil, dass sie Probleme mit hunderten (oder sogar tausenden) Konstruktionsvariablen lösen kann. Dabei ist bei einer zunehmenden Anzahl von Konstruktionsvariablen nur ein geringfügiger Anstieg der Berechnungskosten zu verzeichnen. Mit dem Adjungiertenverfahren werden ebenfalls alle analytischen Ableitungen berechnet. Beim ableitungsfreien Verfahren hingegen müssen alle Ableitungen angenähert werden, was bei einer zunehmenden Anzahl von Konstruktionsvariablen mehr Zeit in Anspruch nimmt. Bei gradientenbasierten Verfahren können außerdem mehr komplexe Zwangsbedingungsfunktionen einbezogen werden.
Der Vorteil des ableitungsfreien Verfahrens ist seine Einfachheit. Es benötigt keine differenzierbare Zielfunktion und weniger Benutzereingriff bei der Festlegung. Aufgrund der Berechnungskosten ist die ableitungsfreie Methode jedoch nur attraktiv, wenn sich die Anzahl der Konstruktionsvariablen auf etwa 10 (oder weniger) beschränkt. In der Praxis sind damit jedoch schon viele Konstruktionsoptimierungsprobleme abgedeckt.
Bei der Parameteroptimierung werden alle skalaren Eingaben für das Modell (z. B. Durchflussmengen und Belastungsgrößen) optimiert. Diese Art der Optimierung ist gewöhnlich am einfachsten. Hierfür ist jedes Verfahren geeignet.
Die Parameterschätzung ist komplexer und erfordert die Korrelation eines COMSOL-Modells mit experimentellen Daten. Das Ziel besteht in der Regel darin, die verwendeten Materialeigenschaften anhand eines Modells zu prognostizieren.
Optimierung von Bemaßungen, Form und Topologie
Die Art der zu optimierenden Variablen bietet eine weitere Möglichkeit, die Optimierungsverfahren zu klassifizieren. Im Optimization Module werden Bemaßungen, Form und Topologie optimiert - und jedes Merkmal hat im Konstruktionsprozess seinen eigenen Stellenwert.
Bei Bemaßungsoptimierungen müssen die Konstruktionsvariablen, die direkten Einfluss auf die Fertigung haben, definiert werden. In der Regel handelt es sich dabei um Bohrungsgrößen oder Länge, Breite und Höhe von Konstruktionselementen. Bemaßungsoptimierungen stellen in der Regel den letzten Schritt im Konstruktionsprozess dar und werden ausgeführt, wenn die Konstruktion hinsichtlich der Gesamtform mehr oder weniger abgeschlossen ist. Hier kommt üblicherweise das ableitungsfreie Verfahren zum Einsatz.
Die Formoptimierung findet normalerweise in der Anfangsphase des Konstruktionsprozesses statt und erlaubt eine freiere Änderung des Objekts. Hier ist in der Regel mehr Sorgfalt bei der Auswahl der Konstruktionsvariablen erforderlich, da eine Verbesserung der Form ohne Überdefinieren der Konstruktion angestrebt wird. Hier wird dem gradientenbasierten Verfahren der Vorzug gegeben, wenn eine analytische Zielfunktion gefunden werden kann.
Die Topologieoptimierung wird in der Regel zu Beginn des Konstruktionsprozesses, meist schon in der Konzeptionsphase, durchgeführt. Bei der Topologieoptimierung wird die Materialverteilung als Konstruktionsvariable behandelt. Um die Zielfunktion zu verbessern, werden Strukturen eingefügt oder entfernt. Aufrgund der hohen Anzahl von Konstruktionsvariablen kommt praktisch nur die gradientenbasierte Optimierung in Betracht.
Product Features
Curve fitting
Derivative-free optimization
Dimension and shape optimization
Gradient-based adjoint method optimization
Levenberg-Marquardt solver
Nelder-Mead, coordinate search, and Monte Carlo methods
Optimization for electrical, mechanical, fluid, and chemical models
Parameter estimation
SNOPT solver
Topology optimization
Optimization Module
Numerical Simulation-Based Topology Optimization Leads to Better Cooling of Electronic Components in Toyota Hybrid Vehicles
Toyota Research Institute of North America, MI, USA
The Toyota Research Institute in Ann Arbor drives cutting-edge research in energy efficiency, mobility infrastructure, and safety. Here, Ercan Dede and his team are designing heat sinks (or cold plates), which are affixed to fragile electrical systems and other applications in Toyota's hybrid vehicles. Their simulations simulate the cold ...
Numerical Simulation-Based Topology Optimization Leads to Better Cooling of Electronic Components in Toyota Hybrid Vehicles
Numerical Simulation-Based Topology Optimization Leads to Better Cooling of Electronic Components in Toyota Hybrid Vehicles
Toyota Research Institute of North America, MI, USA
The Toyota Research Institute in Ann Arbor drives cutting-edge research in energy efficiency, mobility infrastructure, and safety. Here, Ercan Dede and his team are designing heat sinks (or cold plates), which are affixed to fragile electrical systems and other applications in Toyota's hybrid vehicles. Their simulations simulate the cold ...
Optimization Module
Topology optimization
A demonstration of topology optimization using the Structural Mechanics Module and the Optimization Module. Three classical models are shown, the loaded knee, the Michell truss structure, and MBB beam. The optimization method is based on using the SIMPS approach to recast the original combinatorial optimization problem into a continuous ...
Topology Optimization of a Loaded Knee Structure
Imagine that you are designing a light-weight mountain bike frame that should fit in a box of a certain size and should weigh no more than 8 kg. Given that you know the loads on the bike, you can achieve this by distributing the available material while making sure that the stiffness of the frame is at a maximum. This way you have formulated the ...
Transient Optimization: Fitting Material Properties of a Wall
This model demonstrates transient optimization through the least squares solver. The model consists of a wall in 1D. The outer temperature varies over 24 hours and during this time, the inner temperature on the wall has been measured. This measured data is then used to fit the material properties (thermal conductivity and heat capacity at ...
Curve fitting material model data to experimental data
This presentation shows how to use the Optimization Module to fit a material model curve to experimental data. It is based on the hyperelastic Mooney-Rivlin material model example given in the Structural Mechanics users guide.
Optimizing a Flywheel Profile
The radial stress component in an axially symmetric and homogeneous flywheel of constant thickness exhibits a sharp peak near the inner radius. From there, it decreases monotonously until it reaches zero at the flywheel's outer rim. The uneven stress distribution reveals a design that does not make optimal use of the material available. Given ...
Tuning Fork: Computing the Eigenfrequency and Eigenmode
This model simulates a tuning fork for tuning musical instruments which, if correctly designed, should sound the note of A, 440 Hz. It computes the fundamental eigenfrequency and eigenmode for the tuning fork. Although the example seems to be somewhat academic in nature, the eigenfrequencies and eigenmodes of microscopic tuning forks are also used ...
Insulation of a Pipeline Section
As oil flows through a pipeline section heat is released due to the work of internal friction forces in the fluid. With good insulation of the pipeline, this generated heat can be used to avoid preheating of the oil, despite the fact that it is to be transported in a cold environment over long distances. This model uses the Non-isothermal Pipe ...
Minimizing the Flow Velocity in a Microchannel
Topology optimization of the Navier-Stokes equations is encountered in different branches and applications, such as in the design of ventilation systems for cars. A common technique applicable to such problems is to let the distribution of porous material vary continuously. In this model, the objective is to find the optimal distribution of a ...
Spinning Gear
One way to fasten a gear to a shaft is by thermal interference. In preparation of the assembly, the shaft diameter is oversized and the gear thermally expanded in a heat-treating oven. At an appropriate expansion state, the gear is removed from the oven, slid onto the shaft, and allowed to cool. As the gear temperature drops, the gear shrinks and ...
Waveguide Optimization
The optimization of components with respect to geometrical design parameters is a common task in microwave engineering. In this model the reflection coefficient of a waveguide structure is minimized, and the sensitivities of the real and imaginary parts of the reflection coefficient are extracted using the parameterized geometry and adjoint ...
Topology optimization
Topology Optimization of a Loaded Knee Structure
Transient Optimization: Fitting Material Properties of a Wall
Curve fitting material model data to experimental data
Optimizing a Flywheel Profile
Tuning Fork: Computing the Eigenfrequency and Eigenmode
Insulation of a Pipeline Section
Minimizing the Flow Velocity in a Microchannel
Spinning Gear
Waveguide Optimization