ECAD Import Module
Import ECAD Files into COMSOL Multiphysics® with the ECAD Import Module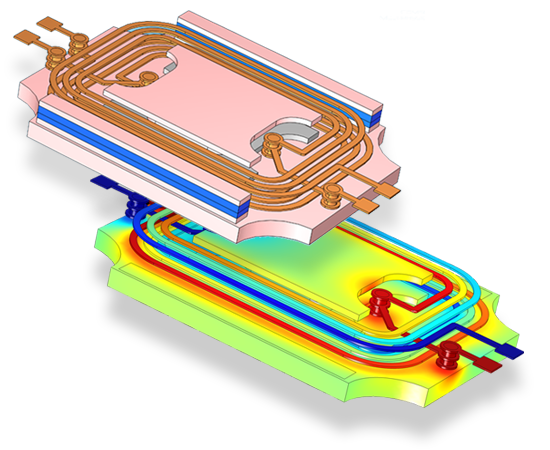 Simulieren elektronischer Bauteile
Bei der Entwicklung von MEMS-Geräten, integrierten Schaltkreisen (ICs oder Chips) und Leiterplatten (Printed Circuit Board, PCB) ist es erforderlich, Gerätemerkmale und Geräteleistungen immer präziser voraussagen zu können – sogar schon vor Herstellung eines Prototyps. Zunehmend kleinere Bauteile setzen Simulationen voraus, in denen auch die Interaktionen verschiedener physikalischer Phänomene berechnet werden müssen. Mittels ECAD Import Module können ECAD-Dateien in COMSOL Multiphysics importiert und diese 2D-Layouts in eine 3D-Geometrie, die für eine Simulation geeignet ist, konvertiert werden. Damit ist der Weg frei zu vielfältigen Simulationen, in denen – neben anderen Anwendungen – das elektromagnetische, thermische und strukturmechanische Verhalten dieser Bauteile und Geräte berechnet werden können.
Importieren von ECAD-Formaten in COMSOL Multiphysics
Die Formate, die für die Übertragung von ECAD-Daten verwendet werden, beinhalten die Layouts der einzelnen Schichten, aus denen ein Gerät (Chip oder Leiterplatte) besteht. Das ECAD Import Module erkennt die geometrischen Formen dieser Layouts und konstruiert ebene Geometrieobjekte. Anhand der Schicht-Stapelinformationen, die sich entweder in der Datei befinden oder beim Import bereitgestellt wurden, können diese Objekte anschließend extrudiert werden. Bei MEMS- und IC-Simulationen unterstützt das ECAD Import Module das GDSII-Format. Für die Entwicklung von Leiterplatten werden die Dateiformate ODB++®, ODB++(X) und NETEX-G importiert. Das NETEX-G-Format ist das native Format des gleichnamigen Programms. Es kann zum Extrahieren der metallischen Leiterbahnen eines bestimmten Netzes im Gerber-Layoutformat und der Dateien mit den Bohrungsangaben verwendet werden, die gemeinhin für den Versand von Leiterplatten-Layouts an die Produktion verwendet werden.
---
Verarbeiten importierter ECAD-Dateien
Die Importfunktionalität enthält Optionen zum Konfigurieren der Zellen oder Leitungsnetze, die für die Geometrieerstellung verwendet werden sollen. Welche Optionen zur Verfügung stehen, hängt vom jeweiligen Dateiformat ab. Außerdem können auch Schichten ausgeschlossen sowie Schichtstärken und -höhenangaben bearbeitet werden. Die Darstellung der Bonddrähte und sogar eine Feinregulierung der Parameter für die Bogenerkennung kann manuell eingestellt werden. Zudem besteht die Möglichkeit, Schicht-Konfigurationsdaten aus einer Textdatei zu laden, um die Konfiguration des Importvorgangs zu beschleunigen. Zur weiteren Zeiteinsparung beim Konfigurieren der Simulationen kann der Importvorgang so eingerichtet werden, dass automatisch Auswahlen für jede Schicht erstellt werden. Die so erstellten Auswahlen können bei der Definition der physikalischen Einstellungen einfach aufgerufen werden.
Die aus den ECAD-Layouts erstellten 3D-Geometrieobjekte lassen sich mithilfe der in COMSOL Multiphysics verfügbaren Funktionen weiter bearbeiten. In Kombination mit dem CAD Import Module oder einem der LiveLink™-Produkte kann die 3D-Geometrie in das ACIS®- oder Parasolid®-Dateiformat exportiert werden. Dadurch kann sie dann auch in anderen Programmen verwendet werden.
Parasolid ist eine eingetragene Marke der Siemens Product Lifecycle Management Software Inc. oder ihrer Tochtergesellschaften in den USA und anderen Ländern.
ECAD Import Module
Produkteigenschaften
Importieren von integrierten Schaltkreisen (IC) und Leiterplatten (PCB) Designs für Simulation mit COMSOL Multiphysics
Schalten Sie den Import der ausgewählten Layers ab
Schichtdicke kann entweder aus einer Datei gelesen werden oder eingegeben werden, für die automatische Extrusion von Schichten während des Imports
Automatische Erkennung von Geraden und Kreisbögen in importierten GDS Layouts
Zellen für den Import von GDS-Dateien selektieren
Schalten Sie den Import von Textobjekten von ODB ++ ® oder ODB ++ (X) Dateien ab
Innenkanten beim Import automatisch löschen
Erstellen einer Layer-Auswahl für die Verwendung in den nachfolgenden Geometrieoperationen und für Modellaufbau
---
Unterstützte Dateiformate
| Datei Format | Dateiendung | Import | Export |
| --- | --- | --- | --- |
| GDSII | .gds | Ja | Nein |
| NETEX-G | .asc | Ja | Nein |
| ODB++® | .zip, .tar, .tgz, .tar.gz | Ja | Nein |
| ODB++(X) | .xml | Ja | Nein |
Importing and Meshing a PCB Geometry from an ODB++ Archive
This tutorial model shows how to import data from an ODB++® archive to generate a geometry of a printed circuit board (PCB). Follow the instructions to learn how to remove small details from the geometry, create a mesh, and use automatically generated selections to define physics and mesh settings. The ODB++® file is provided through the ...
Next Step:
Request a Software
Demonstration
Every business and every simulation need is different. In order to fully evaluate whether or not the COMSOL Multiphysics® software will meet your requirements, you need to contact us. By talking to one of our sales representatives, you will get personalized recommendations and fully documented examples to help you get the most out of your evaluation and guide you to choose the best license option to suit your needs.
Just click on the "Contact COMSOL" button, fill in your contact details and any specific comments or questions, and submit. You will receive a response from a sales representative within one business day.