File Import for CATIA® V5
File Import for CATIA® V5
Import CATIA® V5 Files into COMSOL Multiphysics® with File Import for CATIA® V5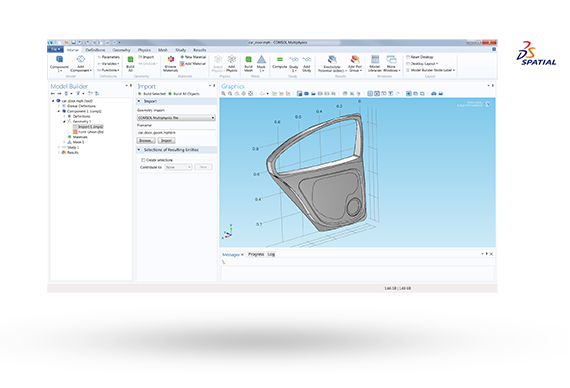 Zusammenführen von CAD-Konstruktion und Simulation
Um die höchstmögliche Qualität für die Konvertierung Ihrer CATIA® V5-Dateien zu gewährleisten, können Sie das File Import for CATIA® V5-Zusatzprodukt verwenden. Es steht für die folgenden Produkte zur Verfügung: CAD Import Module, Design Module, LiveLink™ for AutoCAD®, LiveLink™ for Inventor®, LiveLink™ for PTC® Creo® Parametric™, LiveLink™ for PTC® Pro/ENGINEER®, LiveLink™ for Revit®, LiveLink™ for Solid Edge® und LiveLink™ for SOLIDWORKS®.
Um bei der Konfiguration der Simulation wertvolle Zeit zu sparen, kann für den Dateiimport die Option "Auswahl erzeugen" verwenden werden. Anhand der Struktur des .CATProduct wird diese Auswahl automatisch konfiguriert. Auf diese Weise können Materialeigenschaften, deren Namen automatisch von den Komponentennamen in der importierten Datei abgeleitet werden, zu Domänen zugeordnet werden.
File Import for CATIA® V5
Produkteigenschaften
Import von Teil- und Baugruppendateien vom CATIA® V5 für Simulationen mit COMSOL Multiphysics®
Erstellen von Auswahlen basierend auf Baugruppenstruktur für die Verwendung in den nachfolgenden Geometrieoperationen und für Modellaufbau
---
Unterstützte Dateitypen
| Datei Format | Dateiendung | Version | Import | Export |
| --- | --- | --- | --- | --- |
| CATIA® V5 | .CATPart, .CATProduct | R8-R25, 2016 | Ja | Nein |
Das File Import für CATIA® V5-Zusatzprodukt für das CAD Import Module, Design Module und die LiveLink™-Produkte ist für Windows® 7, Windows® 8, Windows® 8.1 und Windows® 10 verfügbar.
Next Step:
Request a Software
Demonstration
Every business and every simulation need is different. In order to fully evaluate whether or not the COMSOL Multiphysics® software will meet your requirements, you need to contact us. By talking to one of our sales representatives, you will get personalized recommendations and fully documented examples to help you get the most out of your evaluation and guide you to choose the best license option to suit your needs.
Just click on the "Contact COMSOL" button, fill in your contact details and any specific comments or questions, and submit. You will receive a response from a sales representative within one business day.